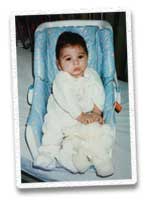 On August 30, 1989, Bob and Angie Policastro's daughter, Angela, was born. She had suffered severe brain damage during birth leaving her very medically frail and requiring nursing care.
The Policastros received tremendous support while in hospital but they realized there were few services available to help them if they were to leave. The few services that were available were very fragmented and difficult to coordinate.
The daunting task of home care seemed overwhelming, especially without an agency available to coordinate the services needed to support Angela at home. They also learned that there were no local specialized homes or facilities available that could care for her. The nearest facilities were hours from their home. These voids in the system made a horrifying situation even worse.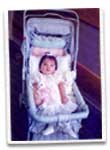 The Policastros sought placement for Angela in a specialty hospital they found in Connecticut. The Policastros learned this beautiful facility had the ability to offer their daughter the therapeutic, nursing, and potential long-term care she required. The best part of this facility was the loving environment Angela was embraced with.
The overall lack of services locally put additional emotional and physical strains on the Policastros, as they would travel to Connecticut over 2 hours away to spend time with their daughter. Angela succumbed to her frail state and passed away shortly after her first birthday.

Faced with their personal tragedy, which was made worse by the many voids in the system, the Policastros committed themselves to improve the lives of medically frail children and their families.
Since the birth of his daughter, Bob Policastro has been a voice to address the problems and needs facing medically fragile children and their families. He never forgot the voids in the system that impacted his family. Bob has many special children in memory along with their families that have touched his heart. He pushed forward with advocacy and educational efforts to promote greater knowledge and understanding of medically frail children and their needs.
In 1992, the non for profit Angela's House was created to offer families and professionals an agency to call to help medically frail children and their families. Angela's House has helped to simplify home care options for families by coordinating the extensive array of services needed to support medically frail children at home.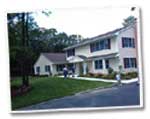 Angela's House has worked very hard to create new programs and opportunities for medically frail children. The doors of our first home Angela's House located in East Moriches opened in the fall of 2000 as a culmination of a ten-year effort by Bob Policastro. This special home for children is the first of its kind. Named after his daughter, this beautiful home offers a loving environment with 24-hour nursing care. Once funding was secured, with the help of Assemblyman Harvey Weisenberg, Angela's House worked in collaboration with IGHL, Independent Group Home Living, to build and operate this home. This collaborative effort became the foundation of an affiliation between two agencies. IGHL is recognized as a leader in providing services for people with developmental disabilities. They operate over 50 homes, multiple-day programs, and many other supportive programs for individuals with intellectual disabilities. This affiliation has forged a new road for the future, using the expertise of both agencies to help more families in the future. In the Spring of 2005, we opened our second home in Smithtown to help another eight more children.
Angela's House Smithtown
Walter Stockton, Bob Poilcastro and Assemblyman Harvey Weisenberg
Bedroom in Angela's House Smithtown
In 2013 we opened our third home in Stony Brook. This home is a first of its kind in New York State. The home has the ability to care for children that require ventilator support. 



Today our mission to assist families caring for children that are medically fragile continues strong. We are currently working with over 600 children a year. It is both our responsibility and the communities to help in raising awareness of the hundreds of extraordinary children who have ordinary (every day), but critical needs. We conduct fundraising campaigns through a multitude of events, write grants and seek corporate support to assist us in increasing our capacity to provide our families with medical supplies, therapeutic equipment, assistive technology, home modifications, respite, counseling, advocacy, service coordination, crisis assistance, alternative medicine, special camps, and other resources for their medically fragile children that cannot be funded by other means. Join us in fulfilling these "EVERYDAY WISHES"