The most dedicated professionals cannot always understand 11-year-old Jacklyn Messina the way her parents, Lucille and Karl, do. Jacklyn has the mental capacity of a 1-month old, and she is blind, but her parents know when she is in a good mood, and they know when her braces are pinching her legs, and they know a thousand things that have no words but which, taken together, form the outline of the personality of their only child.
The parents of severely handicapped children are often at a loss to explain how they know what they know about their kids. How do you explain a smile that no one else can see, a mood in someone who looks unreachable? How do you explain a sound in a language spoken by one person in the world?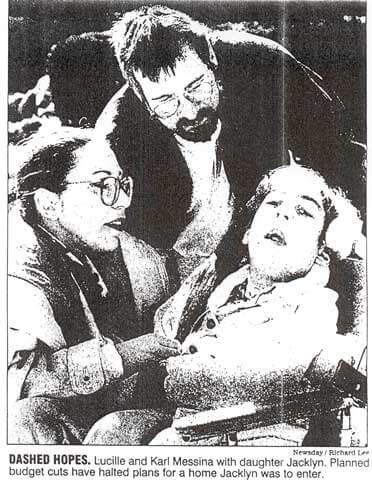 "I go to support groups, and I sit at the end of the table, and when it's my turn to talk, there is always this silence afterwards," says Lucille Messina. "Jacklyn is always the worst of the worst."
This is a story about a budget cut. Those who are tired of this sort of bleeding heart information may now turn the page or read on and be assured that the cutback is safe. It will not be the subject of a radio commercial, or a full-page ad in the newspaper. In the coming long nights of budget negotiations in Albany, it probably will not even rate a mention. Because the people affected by this cut are almost literally invisible. Except in the eyes of their own mothers and fathers, they just about do not exist.
On the long chain of the human condition, this is the last link. Who will notice one link less?
Jacklyn Messina, a girl with auburn hair and greenish hazel eyes, was one of a few children who were schedule to enter a new group home for kids who are referred to by the state of New York as "medically fragile." They are a population already in limbo in almost every sense of the world; and now they are in a deeper limbo because the money for their home has been withdrawn.
There are about 600 kids on Long Island who would have qualified for a home such as this, though it would have had beds for just six of them. They are children who are not just severely retarded or disabled, but who also have medical problems that make it difficult for their families to keep them at home. For the past year, Jacklyn has suffered bouts of pneumonia and complications from scoliosis. She has a feeding tube in her stomach and a tracheotomy to help her breathe.
To date, there is no place on Long Island for a person such as her. There is no place anywhere in the metropolitan area. The nearest institution equipped to handle her is about 120 miles away, just outside Monticello, NY.
For the past six years, creating such a place where people on Long Island can see their children on a regular basis has been the personal mission of Bob Policastro, a Hauppauge man whose daughter, Angela, was born in 1989 severely brain damaged and with medical complications that would cause her death at age one. To visit her once a week, Policastro and his wife, Angie, had to drive two and a half hours to a hospital in Connecticut. When Angela developed a severe complication, and the hospital notified the Policastro to come quickly, the Policastros were en route when she died.
Since then, he has written letters, formed groups, held meetings and maintained an unremitting campaign to educate state bureacrats and legislators about the need for a place on Long Island for kids like his daughter and Jacklyn Messina. An aide to state Sen. Kemp Hannon calls Policastro one of the best-organized and well-informed lobbyists she has ever known, and credits him with almost single-handedly convincing the state Office of Mental Retardation and Developmental Disabilities – after five years of lobbying – to fund the six-bed home.
That was last year. This year, the money is gone. In a list if health-care spending cuts that runs to four pages, single-spaced, Jacklyn's home does not even get a mention of its own. It is simply an unspecified component of the capital budget under the "community expansion" plans of the OMRDD.
The new governor cut it as part of his plan to reduce spending and taxes.
"We thought we would have a place, a new start, and some peace of mind for the first time in eleven years," said Lucille Messina, who had signed the consent forms for Jacklyn to move in to the house, which was to be in Stony Brook, not too far from University Medical Center. She was just waiting for a phone call. Instead, Policastro called to say it was off.
Her daughter loves music, She turns her face to light. She fusses when her hair is combed, fusses when she is kissed. In the sun, her eyes are more green than hazel.
Bob Policastro said he will keep trying to get the house built.
By Paul Vitello