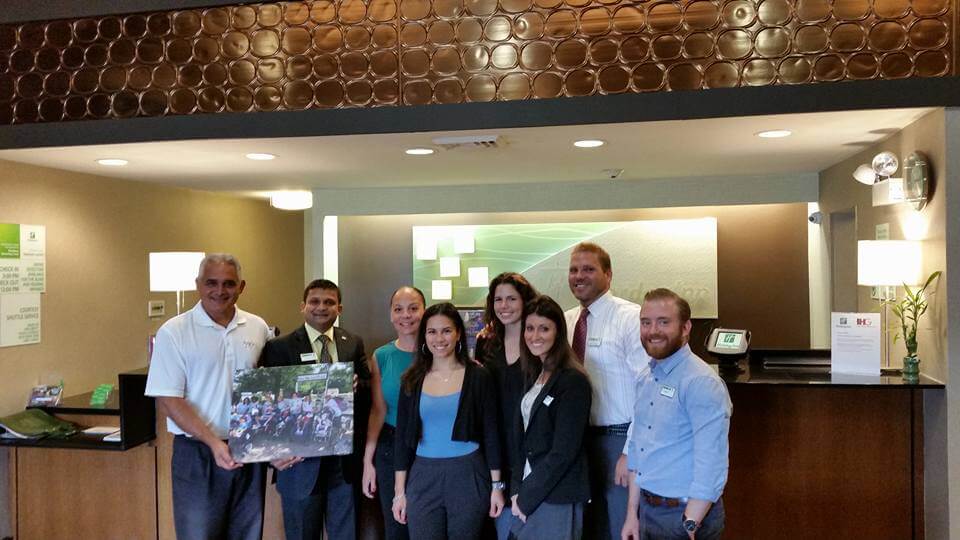 The Holiday Inn Westbury was transformed into a tropical oasis on Wednesday, September 16th for a Hawaiian Luau to benefit Angela's House. Thanks to the support of owners Mr. and Mrs. Barry and Ellen Halperin and the tireless effort of management and staff, the pool and courtyard area were surrounded by custom-made tiki tents, colorful balloons, palm trees and other festive décor.  More than 250 guests were entertained by fire dancers and some even participated in a hula dance contest. 
Guests also enjoyed delicious traditional Hawaiian fare, including a roasted pig, prepared with original recipes by Holiday Inn Executive Chef Wills.  Attendees relaxed poolside, enjoying music by a local DJ from After Hours Live Music & Entertainment and imbibing a variety of delicious cocktails served by staff from B&G Hospitality Group. The incredible staff at the Holiday Inn Westbury secured coveted raffle prizes such as a one-night stay at Oheka Castle, Southwest Airline tickets, and signed Jets memorabilia.
The event, which continued into the late hours of the night, exceeded the Holiday Inn Westbury's goal of $10,000 – bringing in over $16,500 for Angela's House.  It was amazing how the staff of the Holiday Inn Westbury understood the spiritual impact of our mission; this includes our desire to help parents caring for their medically frail children at home, the philosophy of our homes to offer children the best environment we can give them and provide peace of mind to their parents, and the sincerity in understanding and appreciation of how their hotel is located close to our Angel of Hope Statue – a statue for all parents who have lost a child. They understand the devastation this can cause and how important this statue is to our community. It was a great fundraiser and it was a pleasure to work with their team.