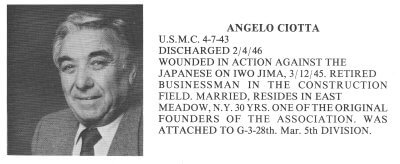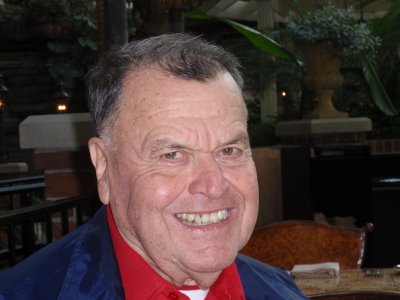 PAT CASSETTA
Pat came to the United States in 1939 from Rome, Italy. He joined the Marine Corp at age 16 and served from 1944 to 1947 in the Pacific and fought in the Battles of Okinawa and Saipan. He has served as President and has held various other offices in the United Veterans Organization of Nassau County and the 1st Marine Division Assn., NY Chapter. He works diligently on veterans' issues to ensure that those who have fought to preserve our freedom are not forgotten. Pat also maintains a close relationship with the active Marines, assisting them with housing and education and helps familiarize them with the area to make their transition here easier. Pat also visits elementary schools and teaches the children the importance of honoring the flag and our country and to appreciate the freedom they enjoy.
~~~~~~~~~~~~~~~~~~~~~~~~~~~~~~~~~~~~~~~~~~~~~~~~~~~~~~~~~~~~~~~~~~
Since 2003 both Pat and Angelo have helped with the Nassau County 9/11 Memorial Foundation. They worked tirelessly for more than 4 years, until its completion, overseeing the construction site in Eisenhower Park, assisting the volunteer construction workers and working with architects and local government officials.
Angel of Hope Statue
In 2007 Bob Policastro the founder and Executive Director of Angela's House met Pat Cassetta by chance. From that day Pat , Angelo and Bob worked on bringing the Angel of Hope statue to Eisenhower Park to honor all parents that have lost a child. On December 7th 2008 we had a breath taking opening ceremony along with a candle light vigil. This project would not be possible without the help and devotion of Pat Cassetta and Angelo Ciotta.