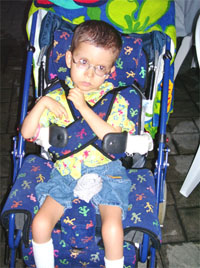 Dominic is a seven-year-old boy that was born with Chromosome 5 deletion, cortical blindness, developmental delay, chronic bronchitis, seizure disorder and neuromuscular problems.
He is seven years old but he is only on a three to four month old level. He is dependent on caregivers for all his needs. He wears bilateral AFO's on his legs. He cannot hold his head up and has extremely low muscle tone. At home there is a suction machine in case of choking. He receives nebulizer treatments and medications as prescribed by his doctor. During the night his mother and father are frequently in his room caring for him and changing his position.
Dominic lives at home with three older siblings, two brothers and a sister, and his parents, Rosemary and Vincent. They are very involved with his care. The family lives in a small, three bedroom ranch. Currently they own a minivan. This past November, his mom was in a car accident with her husband's car. The car was totaled and this car was dad's transportation to work. This forced them to take another loan for a car so that dad could get to work. This has caused a huge hardship for the family. Dominic is continuing to grow and has to be transported with equipment when needed, to and from school, doctor appointments, as well as house hold errands. This is further complicated because he travels and gets around with his wheelchair. Due to the accident his mom now suffers from chronic back problems and is being regularly treated by a chiropractor. She cannot lift anything heavy. This puts the burden on the two oldest children, Vincent and Kathryn, to lift the wheelchair into and out of the back of the van.
The family has looked into modifying the minivan to add a lift, however if they added the lift, there would not be enough room to transport everyone in the family. Dominic's family cannot afford another payment and are hopeful to purchase a conversion van with a lift in order to meet Dominic's needs and be able to fit the whole family.