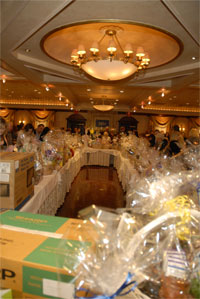 Thursday March 31, 2011
7:00 – 11:00pm
Cocktail Reception:
Open Bar
Dinner
Dance
Awards
Chinese Auction
$100 per person
Watermill
711 Smithtown Bypass
Smithtown NY 11787
Click here to download the registration form
Click here to purchase a sponsorship online
Please RSVP by March 22, 2011
---
Angela's House Honoree
Arthur Krantz
Arthur Krantz is a 'rags to riches' entrepreneur who continues to give back to his community.  For more than twenty years, he has never lost sight of the plight of youngsters in need.  He has provided spectacular holiday events for thousands of Long Island children, living in myriad challenging circumstances.  He is not only committed, but passionate, in his quest to provide a fantastic celebrations for youngsters.   He is indeed the 'Angel' of the Angels of Industry, as dubbed by Newsday in 1999.
He is President and CEO of PRC Industries, in St. James, N.Y., and Founder and Director of 'We Care for Kids Inc.', a not for profit organization.  His belief that 'good will' is contagious, is evident in his spirit and practice.  His foundation is dedicated to providing experiences to be cherished by the children and families who find themselves in challenging life situations.  While he selflessly coordinates, and produces the most poignant memories to be cherished by participants and volunteers alike, he remains exuberant about every moment of the process.  With crown on his head, and his wife 'Queen' Helene at his side,   'King' Arthur is truly a man of men, who graciously acknowledges the little angels in his community.