New York Finest (New York City Police) made a world of difference for Jay and William as they escorted them through NYC.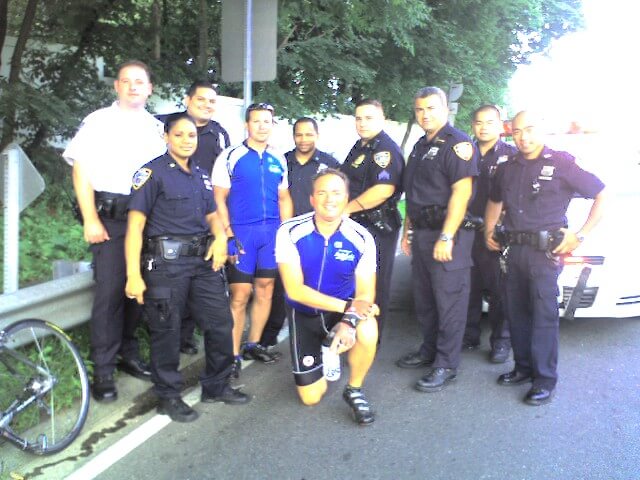 What a Last Day

They made it! They were met by 6 squad cars from the
New York City Police Department
who escorted them from the George Washington Bridge, through Manhattan, into Queens and to the Nassau County Line. They were then met by the
Nassau County Police
who escorted them to the Suffolk County Line. The
Suffolk County Police
took them to
Jack McCarthy's Pub
where tons of adoring fans cheered their arrival. The
Centereach and Nesconsit Fire Department
were fantastic as they blocked the streets to have two fire engines extend the ladders and meet in the middle of the street to unfurl a beautiful huge flag that waved over Jerico Turnpike. As the Suffolf County squad cars crossed the finish line, Jay and William flashed some huge smiles as they sailed by the crowd into Jack's parking lot. Lots of hugs and kisses and pats on the back for two guys who accomplished what most wouldn't even consider. Giving up their own time, energy and businesses for a week to help Angela's House was a great act of kindness. The band, Mixxed Company, immediately started playing under a big white tent. No one seemed to mind the heat, as tons of hamburgers, hotdogs, sausage and beers flowed all afternoon. Many thanks to all the folks to did the cooking and serving!
Double R Contracting
was thanked many times for their wonderful donation and support of the ride.The raffle rasised $7000. The winner of the 50/50 pot was a Centereach fireman, who graciously donated $1000 back to Angela's House. Way to go! Many raffle baskets were additional gifts donated by friends of Angela's House. The whole day was great and we are so proud of these two guys for being Angela's stars.