Angela's House offers programs and supports and will coordinate services to families who need care for their medically frail children at home. For children who cannot be cared for at home, Angela's House I and II are specially designed homes that provide a warm environment with 24-hour nursing care to accommodate the children's complex medical and physical needs.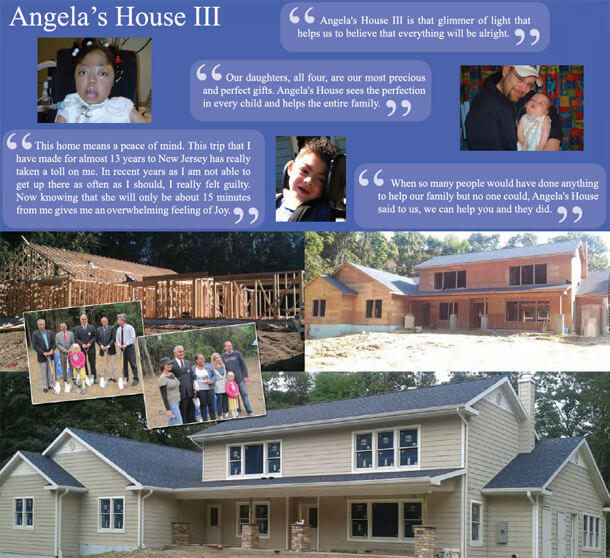 Message from the Executive Director

Celebrating Our 20th Anniversary has been amazing as I reflect on our journey and how we have assisted thousands of medically frail children over the years. I feel it has been through the hard work of our staff that we are in a position where we can help to make a difference every day. In just the first three months of this year we helped over 400 children. It was just a few years ago that this was the total we served in a year. I cannot thank our staff enough for all the dedication they put into their work each day.
I also continue to hold onto my roots as I continue to advocate for disabled individuals beyond our agency. My advocacy first started with my daughter 23 years ago and has never stopped. It didn't take long for me to understand that the work of an advocate never ends. I feel it is important for our community to be aware of the difficulties their disabled neighbors must endure. What makes it scary is during this downturn of our economy, all we continue to hear is how NYS and the Federal government wants to change the delivery system of Medicaid. These potential changes, along with cuts we have already seen, make it difficult to meet the needs of disabled individuals and their families. I understand the great struggles families endure caring for medically frail children each day. Knowing this struggle gives us a great motivation to do whatever we can to assist parents.
Our 20th anniversary has been exciting as we see the development of Angela's House III being built in Stony Brook. It is exciting to know how this home will impact our community in a positive way. This project has been seven years in the making. We will have 24 hour nursing and medical supports to be able to care for medically frail children that require ventilator care.
Come join us on Facebook, Twitter and our website to see and hear about the exciting events we have planned. Thank you for all your support.
Thanks to Our Supporters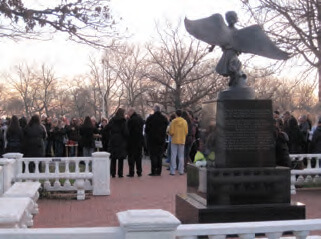 Save the Date
Angel of Hope
Candlelight Ceremony
December 1, 2012
4pm at Eisenhower Park
for all families that
have lost a child
Angela's House Golf Outing
Our 10th annual golf outing was a major success. Our honoree was Christopher Kutner, partner and chair of healthcare practice at Farrell Fritz, P.C. We celebrated the recent ground breaking of Angela's House III. This new home will have the ability to care for ventilator dependent children. This has great significance to our honoree because over 30 years ago his brother suffered an accident that required this level of care that was not available on Long island.
Your Gifts Make a Difference
Donations can be sent to:
Angela's House PO Box 5052
Hauppauge, NY 11788
Angela's House is a 501(c)(3) non-profit organization; your gift is tax deductible to the full extent of the law.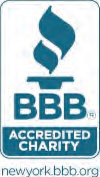 Angela's House uses public programs, grants and donations to assist families caring for their children with special health care needs that are medically fragile, chronically ill or living with a life threatening illness. Your donations and assistance with fundraising allows us to ease the financial burdens our families experience with the day-to-day care of these children. These funds are very important especially for children who need help right away but often must wait months to get assistance through public programs. These funds are used to purchase medical supplies, medical care, therapeutic equipment, and other items not covered by insurance. Below are a few of the families and children we assist in our programs.
Donations in Lieu of Flowers
In a time of grieving, this family displayed great generosity by requesting donations be made to Angela's House in lieu of flowers – David Bingham
Donations in Memory of
Andrew Baierlein
Paul Bevagua
Peter Callahan
Vincent Camareri
Dominic Capone
Zachary Cashin
Bernard Clark
Eugene Conte
Athena Fogarty
Kelly Anne Ficken
Ellen Fucito
Nancy Goldstein
Brian Lawrence Gray
Joan Herre
Kyle Herring
Katelyn Hesselberg
Dina Kruck
Brandon LeMaire
Mary Miller
Arthur Pace
Abigail Peyman
Paulie Poloskey
Joan Prisco
Lori Rosa
Florence Walters
Donations in Honor of
The Altbacker Family
Caroline Caggiano
Christopher Cannone
Kyle Gaunay
Tom McGrath
Cadence McGoldrick
Pedrom Palazzo
Joseph Romeo
Ella Rose
Caroline Serva
Fishing Charter Fundraise
We had a sea of 200 supporters that boarded from Captree State Park on July 11.A great day of fishing and fun thanks to Capt. Chris from the charter boat Fishtail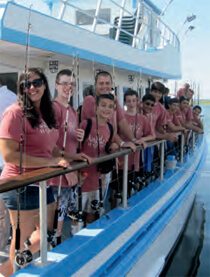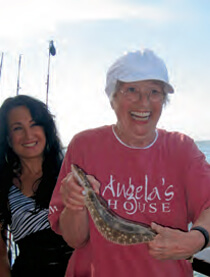 Fundraiser to Support Angela's House III
Karen and Rob Serva worked many hard hours to setup a fundraiser for our new home.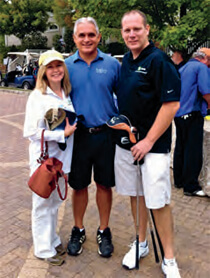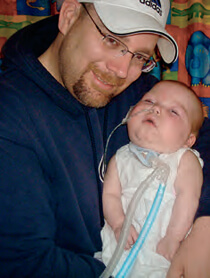 Save These Dates