Welcome To The Christmasville House! We're the Buckley's (Dan, Debi, Chris, Steph & Danielle.) We've been decorating for over ten years. It all started back at our apartment in Queens with lights around the kitchen and living room windows and lights down the railing on the stoop. In 2000, we moved into Farmingville and now have two dedicated sheds to store our brand new Christmas display. Chris usually starts decorating in the middle of October to have it all ready for Thanksgiving night. It takes him 4-6 hours a day during the week and all of the weekends to plan, setup and wire all of the decorations. During the holiday season we collect donations for Angela's House and last year we raised more than $1,800.00 and would like to thank all of Long Island for all of your support. Chris is responsible for everything. He has such dedication and that holiday spirit to do all of this. He says "Seeing a kid's face light up with excitement and joy is such a phenomenal feeling". Our Christmas display is on everyday between 5:00-11:00pm from Thanksgiving night to the first Saturday after New Years.
On December 13th, Santa will be making an early stop at the Christmasville house where he'll be outside taking pictures with all the visitors, giving out candy canes and serving fresh hot cocoa. Our favorite decorations of 2008 are the brand new computer controlled Christmas mega-tree and the New Years Time Square Building. Chris started the mega-tree project back in January ordering all the parts and soldering them all himself and taking almost two full years to complete his one-of-a-kind Times Square building it features a built in flat screen monitor showing all the classic Christmas movies. Our neighbors think we're crazy but love that we have the holiday spirit and enjoy it very much. Chris is inspired by all of the people that come by to see the house. He says "When people shout from their cars or even take the time to get out their cars on a cold night just to see the display is such a great feeling of accomplishment". Having his little sister as his helper, anytime she gets excited seeing a brand new decoration, Chris knows its perfect to add to the collection. We hope you'll come and stop by this holiday season meet and take pictures with Santa and drop off a donation. We greatly appreciate everyone who's made a difference this year and last year and wish everyone a safe and Happy Holiday.
Thank you for all of your support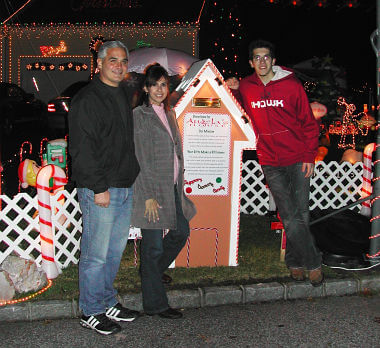 Directions
The Christmasville House is located at:4 Sheri CourtFarmingville, NY 11738
LIE to Exit 62.(Rt 97-Nicolls Rd.) Follow signs for Rt 97 North-Stony Brook.
Once on Nicolls Rd. go to the second traffic light which is S.Coleman Rd. Make a left turn onto S. Coleman.
Go the traffic light (Horseblock Rd.) At this lightS. Coleman Rd ends and Sheri Ct. begins.
Go straight to 2nd house on the left. You can't miss us.