Angela's House helps to coordinate the complex array of services needed to support families so that they may care for their medically frail children at home. Angela's House offers a home-away-from-home option for medically frail children when they cannot live at home. We understand the day-to-day, year-to-year support is very important for the well being of the children and their families.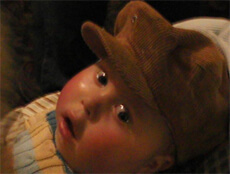 Brandon Thomas LeMaire
Looking back to the evening of February 18, 2006, we were on top of the world. Life was perfect. I was 9 months pregnant and scheduled for a c-section in just a few days. Nothing could be better. It was a fairytale, a storybook.
On February 19, 2006, when my water broke, it was supposed to be the most glorious day of our lives, the baby was coming. It was not what was planned, but it was no big deal. On the fetal monitor, his heart rate dropped and he was born by emergency c-section.
It´s amazing how fast your dreams change. When you are pregnant you wonder things like: What will our baby be when they grow up? What will school be like? Will they be good at baseball, basketball, or dance? When Brandon was born, our questions were: What should we do? How far will we go medically? Will he ever come home? How can we get through this?
He was in the NICU for 2 months. Then was transferred to Blythedale Children´s Hospital in Westchester. During those months, we spent every waking moment with Brandon. We were at the hospital around the clock. We met with other families, social workers and nurses. Finally on May 10, 2006, Brandon Thomas LeMaire came home!
Finally our baby boy was home! We could not have been happier. We had the training in g-tubes, feeding pumps, suctioning, oxygen, CPR. We had all the supplies. We were set!
We had all of our family and friends to support us around the clock but they just couldn´t help us with certain things, they didn´t know the ins and outs of the system any better than us. They helped us with Brandon´s care as best as they could. But we never felt more alone in our lives!
I can remember being at my wits end. Brian went back to work and I was home with Brandon waiting for our Medicaid papers to go through and get nursing. The system was so difficult to navigate. I ended up getting Bob Policastro´s name and gave him a call. He knew exactly what we were going through. Immediately he began helping us. He put us in touch with the right people.
It just felt so good to finally have a group that understood Brandon, and that understood us. Our feelings were normal, Brandon was not so abnormal. Angela's House coordinated our Care at Home Program. We were able to get all of his intervention therapies, additional equipment and the much-needed help at home we needed with nursing care. Our caseworker worked hard to keep sending me nurses to interview until we found the right combination of hours and personalities to help our family.
Angela's House was there through each stage of Brandon´s life. They watched him live, grow and improve. They were there for the highs and unfortunately, but thankfully the lows.
On October 1, 2007, after defying the odds for 19 months, Brandon could no longer fight. The little guy left us. He went very peacefully. Now we know he is in a better place. He is free from the constraints that his body had here with us. He is holding his head high, walking, talking, eating, smiling, laughing and playing. He is a typical toddler.
That is not where our story ends. We are eternally grateful for Angela's House for helping us and supporting in ways that our family could not. We have the need to give back and help others the ways we have been helped, not only financially, but also emotionally.
We would like to say thank you to everyone who has guided our journey.
With gratitude,
Frank and Janice
Message from the Executive Director Bob Policastro

You will see a change on our front cover that will become our new identity into the future. We will be taking out Association for Technology Dependent Children (ATDC) from our name. The legal works to make this change is underway.
I felt it would be important to explain how we came to this decision. The term "Technology Dependent Children" was created over 20 years ago to medically describe and categorize children with special health care needs. This term was meant to simplify the difficult overall description of the hundreds and thousands of rare diseases, illness and accident-related medical conditions. At the time it was easier to use this term to help describe the children.
When we first chose to use this term for the name of our non-profit agency, we felt it would become well recognized in the community. Unfortunately, the use of this term was reduced by both our federal and state governments. By the time the first Angela's House opened in 2000, we saw how well received it was and we also saw that people in the community knew us more from Angela's House than from ATDC. We decided at that point to use both names to describe ATDC for our home care services and Angela's House for our home-away-from-home alternative for children. Over the past seven years, the term "Technology Dependent Children" was not used and Angela's House became more familiar to people.
The decision was made and is underway to change our name to Angela's House. All of our services will remain the same. We will continue to support parents caring for their children at home and we will continue to offer out-of-home alternatives for children that can no longer live with their parents. We understand that we are still faced with the enormity of trying to explain to our community which children we work with. Our best description is to say we work with children with special health care needs that are medically fragile, chronically ill or living with a life threatening illness.

We found a home for the Angel of Hope statue to memorialize all children that have passed. We are working with Marine Veteran Pat Cassetta and Nassau County to erect the statue in Eisenhower Park in East Meadow. For more information, please visit https://www.angelashouse.org/angelofhope.shtml
Thanks to Our Supporters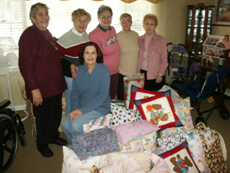 Something for Seniors group from St. Patrick´s RC Church of Smithtown made pillows and blankets for the children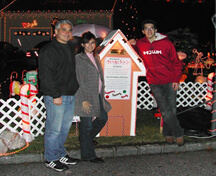 Bob and Angie Policastro stand with 17-year old Chris Buckley who decorated his parent´s house and built a large ginger bread house for people to give donations to Angela's House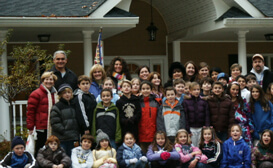 The student government from Forest Brook Elementary Schools visited Angela's House to do yard work and hang birdhouses they had made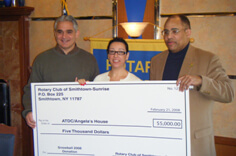 The Smithtown Rotary Sunrise held a fund rasier where some of the proceeds went to help Angela's House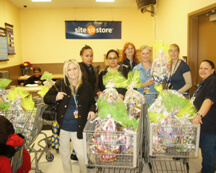 Wal-Mart made a donation and their employees made baskets for the children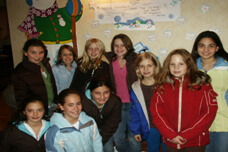 Girl Scout Troop 3837 made gifts and delivered them to Angela's House
Angela's House Spring Gala
The 2008 Spring Gala was on April 3rd at the Watermill Smithtown. The large crowds of supporters were treated to a fun evening including a cocktail party, music, very large Chinese auction, dinner and a DVD that showed the lives of families caring for medically fragile children.

Gala Honoree Dr. Richard Fine, the Dean of the School of Medicine at Stony Brook University Medical Center

Jay D´Agostino and William Iaia receive a photo framed Newsday article about their bike ride last summer from Florida to Long Island to raise awareness and funds for Angela's House

Parents and friends of the Gala Committee
Your Gifts Make a Difference
Angela's House uses public programs, grants and donations to assist families caring for their children with special health care needs that are medically fragile, chronically ill or living with a life threatening illness. Your donations and assistance with fund raising allows us to ease the financial burdens our families experience with the day-to-day care needed to support these children. These funds are very important especially for children first identified to us that need help right away but often must wait months to get assistance through public programs. We use these funds to purchase medical supplies, medical care, therapeutic equipment, and other items not covered by insurance. Below are a few of the families and children we have helped.

Jackson sits in his new stroller
Donations can be sent to:
Angela's House
PO Box 5052
Hauppauge, NY 11788
Angela's House is a 501(c)(3) non-profit organization; your gift is tax deductible to the full extent of the law.

Vincent sits in his new positioning chair

Assist Adriana´s family with a Community Outreach
Donations In Honor or in Memory of
Christopher Cannone
Miles Driscoll
Kelly Anne Ficken
Edward Hayes
Katelyn Hesselbirg
Nicole Kowitt
Brandon LeMaire
Nicholas Mogavero
Angela Policastro
Paulie Poloskey
Brian Regan
Patrick Steimel

Julia trys out her new walker

Dominick received assistance with equipment not covered by other means
Donations In lieu of flowers
In a time of grieving these families displayed great generosity by requesting donations to us in lieu of flowers.
We were honored by this gesture.John Coffey
Walter Kieser
Matt Savoretti
James St Jacques

Jake received help with therapeutic equipment
First Annual Brandon LeMaire Benefit for Angela's House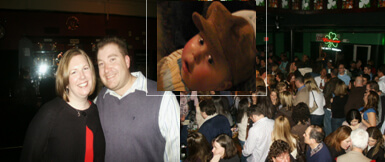 Christine and Brian LeMaire were very grateful for all the help they received for their son Brandon who passed away in October 2007. They decided to do a fund raiser in honor of Brandon to benefit Angela's House. The Event was held at the Nutty Irishman in Bay Shore. Over 450 people attended in honor of Brandon and his parents.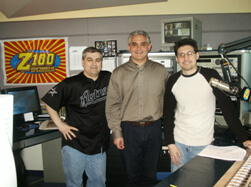 Bill Hesselbirg, Bob Policastro and Joe Rosati in the Z100 studio taping an interview that will help to promote the work of Angela´s House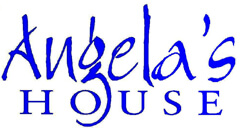 P.O. Box 5052
Hauppauge, NY 11788
SAVE THESE DATES
The 2008 Bike RideNiagara Falls Canada to Long IslandAugust 6th to August 10th Jay D´Agostino and William IaiaTo raise awareness and funds formedically fragile children.
Follow the ride at
www.angelashouse.org/blog.html
2nd Annual Fishing Charter
On
July 28th at 4pm
Sailing from Captree State Park includes
Fishing and Dinner
A Night for a Cure
November 13th 2008
Enjoy an Enchanting evening at
Oheka Castle
To raise funds and awareness for the many rare diseases and illnesses that afflict children.