Grace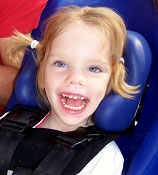 Grace is a 3-year old girl born premature but in good health. Due to an accident when she was two weeks old, she suffered a severe hypoxic event when her lungs collapsed. The lack of oxygen caused severe trauma to her brain. She has Cerebral Palsy, Hydrocephalus, Shunts, Periventricular Leukomalacia, Cortical Blindness, Severe Gastroesophageal Reflux, G-Tube, and Seizures. She is unable to speak, crawl, or even lift her head.
Grace has had many hospitalizations over the past 2 years including 3 brain surgeries, 2 abdominal surgeries and many ER visits.
Because of her seizures, she is hospitalized on an almost monthly basis and she will certainly over time need additional brain surgeries to revise her shunt when problems with it occur.
At different times, both of Grace's parents have lost their jobs since her birth and have done everything possible to make ends meet. The family has incurred mounting bills due to the care of their daughter and the out-of-pocket expenses they have incurred from things such as her hospital stays in Manhattan. They have also exhausted their retirement savings. With a trip to California for a medical procedure not covered by Grace's insurance planned for the future, they are again faced with how to pay for travel, food, and lodging during the procedure.
Grace's mom and dad have done their best to meet her needs. In the near future, Grace will need additional equipment to help her quality of life, including a hospital-style crib.
---
Adriana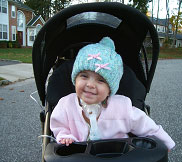 Adriana is a 22-month old baby girl born with multiple congenital defects. She has a very large Omphalocele, where by some of her internal organs were outside her body at birth. This is a life-threatening condition. She also has a complex cardiac defect, Pulmonary Artery Stenosis, Pulmonary Venous Compression, cyst on the brain, Tracheomalacia, Tracheal Bronchus, Grade 2 Laryngeal Cleft, GERD, a G-tube, and Left Eye Ptosis.
Adriana has been in the hospital almost every month of her life with 9 surgeries & 7 procedures, including open-heart surgery. Because of her various airway issues, Adriana has had 2 full respiratory arrests, needing resuscitation and intubation each time. She's now on humidified oxygen during the day, but must sleep on a ventilator at night.
Adriana's mom & dad sleep in shifts to ensure she was not aspirating during her continuous G-tube feedings, each managing on 4 hours of sleep. The day is spent taking blood pressure readings, administering medications, checking O2 saturations, and monitoring feedings via pump.
The family's finances have been affected due to the loss of one income since the birth of Adriana and the mounting medical bills. The parents 401k have also been exhausted. This does not include the nearly $30,000 in out-of-pocket medical expenses not covered by insurance, and the expense of traveling to Boston twice in the last year.
At 22 months, Adriana is still unable to crawl or walk and was recently fitted for a stroller/wheelchair. In the near future, she will need a stander/walker, a hospital-style crib, and a generator to keep her life support equipment functioning during power outages.
Message from the Executive Director
Bob Policastro
It is hard to believe that this year is our 15th Year Anniversary. It is exciting to see the work we have done but we realize there is a lot more work to be done. Our history goes back to 18 years ago, before we formed the nonprofit. The first three children that opened my heart to this new world were;
| | | |
| --- | --- | --- |
| Angela Policastro | Steven Przystawski | Elizabeth Carlino |
This is how I learned the plight of medically fragile children and the challenges the parents were faced with, both in their homes and the need for a special house for these children to live that could not live at home.
It is beautiful to see how we have grown to be able to help over 300 children last year. We will never forget our roots as parents. One of the greatest things I have seen over time is the growth of support from our community to help the children we work with. If you look at this newsletter, you will see the heart- warming success of your support which allows us to help these very special children. Thank you very much from all our families for making this possible.
We are proud to say we are persistently working on Angela's House III. This home will have a specialty of being able to handle children dependent on a ventilator to survive. We have been working with families that need the support of Angela's House. This new home will offer great peace and relief to the parents we have spoken with.
| | |
| --- | --- |
| | Proposed Angela's House III |
| | |
| --- | --- |
| The Ancient Order of Hibernians Division 3 makes a donation to Angela's House | |
---
Thanks to Our Sponsors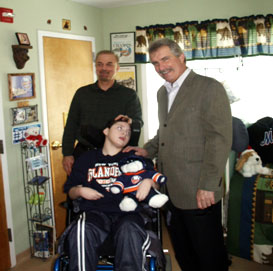 Former New York Islander and Hockey Hall of Famer Clark Gilles is seen with Eric and his dad on a recent visit to Angela's House
| | |
| --- | --- |
| Volunteers from St Thomas More Church help with yard work | |
| | |
| --- | --- |
| | Laura Sherland from Girl Scout Senior Troop 793 of Smithtown designed and made 3 bags of bibs for the children of Angela's House |
| | |
| --- | --- |
| Girl Scout Troop 1249 made 2 baskets of Books on Tape for the children of Angela's House | |
Spring Gala
The Spring Gala on March 22nd, 2007 was an evening filled with a great spirit. The Watermill setup our room for a beautiful enchanting evening. Guests walked into the ballroom and they saw a long row of tables with wonderful gifts and prizes that would be given away during the evening. During the cocktail hour, the DJ played beautiful music, as the guests were able to view many photos of the children we assist. Bob Policastro talked about the 15 year anniversary of Angela's House. A beautiful DVD was played to show the life of a family in Angela's House and a family caring for their daughter at home. The guests enjoyed themselves dancing and talking all night long.
A Special Note

I just wanted to tell you how much I treasure what you have done to help these little children at Angela's House. My little grandson Thomas is the recipient of the most wonderful loving care that any child could receive. We owe it all to you. Thomas would have never had a sister Shannon if it were not made possible by you establishing Angela's House. You have given me personally a great gift. For this I can never thank you enough.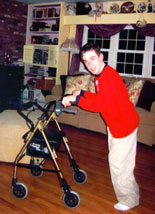 Frank's new walker
Your Gifts Make a Difference
The greatest gift we can give is one that can help a child in need. Your donations allow us to ease the financial burdens our families experience with the day-to-day needs of each child. We use these funds to purchase medical supplies, medical care, therapeutic equipment, and other items not covered by insurance.
| | |
| --- | --- |
| Santa visits Kelly at Angela's House | Gabriel during a visit at the hospital for treatment |
Donations can be sent to:
Angela's House
PO Box 5052
Hauppauge, NY 11788
Angela's House is a 501(c)(3) non-profit organization; your gift is tax deductible to the full extent of the law.
| | |
| --- | --- |
| | Angela's House helped Michael get a new walker |
In Memory Of:
In a time of grieving these families have displayed great generosity by requesting donations to us in lieu of flowers. We are honored by this gesture shown by the families of the following:
Athena Fogarty
Kelly Anne Ficken
Katelyn Hesselberg
Nicholas Mogavero
Paulie Poloskey
Cprl Robert Pope
Patrick Steimel
Angela Policastro

Angela's House helped Kayla get a new chair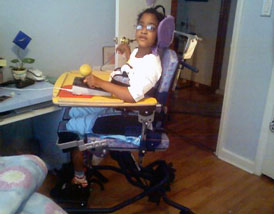 Angela's House helped Tyler get a new chair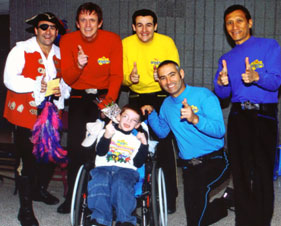 Christopher and Wiggles
Making Dreams Come True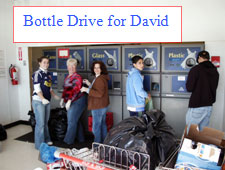 David has a butterfly on his hand during a visit to the Metropolitan Museum of Natural History, which was made possible by Angela's House and a Community Outreach.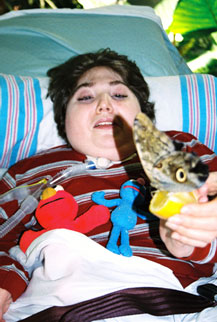 Girl Scout Troop 3720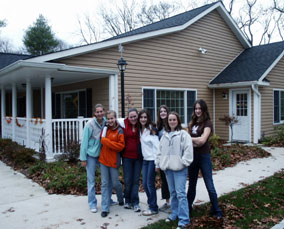 These Girls Scouts did a lot of volunteer work such as; reading to the children, decorating the house for holidays and work around the yard