BORN UNDER A LUCKY STAR
Anthony Morrone of Horan, Martello, Morrone, PC of Hauppauge wrote a special book about a disabled boy. Anthony touched on the very sensitive insight into the mind and heart of a child who had been born severely disabled, and how as a child he grappled within himself why he was so afflicted. The book's introduction goes on to say how parents have said that their disabled child turned out to be the greatest blessing of their life.
Anthony Morrone has committed the profits of the book to Angela's House. Born Under a Lucky Star was awarded second place in a national children's book competition. The book can be purchased through our website.
LIAC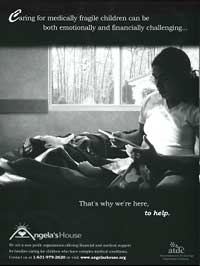 The Long Island Advertising Club, Inc., LIAC, is a non-profit association of advertising firms, their employees and/or anyone connected with the business of advertising and marketing services.
The LIAC conducted a student competition. It was open to all students of communications, marketing and advertising enrolled at colleges or universities located in Nassau, Suffolk, Queens and Kings Counties. Angela's House was proud to have been selected as the agency the students used for this competitive assignment. The competition included brochures, posters, fund raising flyers and a print ad. Bob Policastro visited schools and met with the students to answer any questions they had. (To the left is an example of the exceptional work done by the students).
St. Thomas More Walk-A-Thon
It couldn't have been a nicer day for the St. Thomas More Walk-A-Thon for Angela's House on April 24th. It is great to see the children in the community getting involved helping other children. It is a great way for them to learn how to give in a special way. It was fun to walk with them on this spirited day.
Message from the Executive Director
The number of children referred to us continues to rise. This allows us to fulfill our mission to help medically frail children in our community. The outreach in our community received a helping hand from the Long Island Advertising Club, LIAC, who selected our agency to develop educational flyers and posters.
We are very grateful to our community that continues to support our efforts. HRH and Plaza Construction, sponsoring our Spring Golf Outing, St. Thomas More Catholic Church sponsored a walk-a-thon, and St. James Lutheran Church held a fashion show. These fund raising events, along with several other efforts, bring a bright light to our future. I received a call from several students of the Westhampton Beach Middle School that wanted to help us. The students held a variety of student driven fundraisers from a bake sale to a Hawaiian Day and raised $1000 for Angela's House. Seeing children helping children really warms your heart.
Our efforts continue with the parent professional group called The Long Island Network of Parents of Children with Special Health Care Needs. On May 18th we had a special workshop setup to educate families and service providers about the financial entitlements to help families.
Construction began on the foundation of Angela's House II in Smithtown. Our efforts continue with the respite house but we have run into further delays with the Catholic Diocese. We hope to work out issues holding up this worthwhile project that will help many families.
Our thanks for all the support that has been extended us.
A Day in a Life: One Family's Story
To Whom It May Concern:
Enclosed is a picture of my daughter, Alexus. She is a year and a half.
My husband and I were thrilled when we realized she was coming into our lives. We are a fairly young couple. We were recently married and on top of the world. Alexus came into our lives on October 4th 2002. That was the best day of my life. We brought her home and for about a month we enjoyed our beautiful little girl. Then, without warning, our world came crashing down. My little girl had fallen ill. She was diagnosed with lissencephaly. Her father and I have been trying our best to keep our family from falling apart. This has put a great strain on our marriage and it has impacted our lives tremendously.
With this diagnosis my daughter is severely disabled. Alexus is a beautiful child who will never walk, sit on her own, or even talk. Her life expectancy is also short. She lives her life under a microscope and a battery of medications and tests. Even with all the odds against her, she manages to smile and to put a smile on everyone else's face.
My husband and I are trying to remain strong. We are struggling with our means of living. I am no longer able to work. My full time job is caring for my daughter. The amount of pain that my husband and I are sustaining is indescribable. Through all of the pain and all of the tears, we all manage to take each day as it comes and to smile and be thankful.
Our hope for Alexus is that she may grow and be a happy child. We only hope to be able to provide for all of her needs. My wish is that she and her story will live on and inspire others. Despite her disabilities, Alexus has a voice, through me. Alexus walks, through me, and Alexus rejoices, through me………her mother.
Thank you for your time.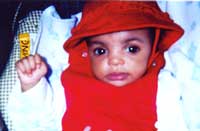 The Torch Foundation is Behind our Families
The Torch Foundation shows the families of Angela's House that the community cares for them.
The Torch Foundation had Santa and their helpers ready to go. They sponsored a toy purchasing night at ToysRUs, Commack, on the 26th of November 2003. Several young Santa's Helpers from Hauppauge Middle and Grammar schools went on a 4-1/2 hour shopping spree to purchase over 100 gifts for our Angela's House nurses to deliver. The Santa's Helpers worked very hard to search for special gifts for each child. The Torch Foundation then sponsored a gift wrapping day on November 29th. Over 40 children were present to help wrap gifts for Angela's House and other organizations. Bob Policastro, executive director, had invited his son's little league baseball team that he coaches. This group of 10-year-old boys was very excited to help with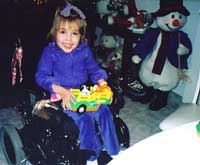 the gift-wrapping. The holiday music was playing, as the children were busy wrapping gifts. Lunch was served along with snacks, which gave the children time to recharge for the second round of wrapping. It was a great experience for all the children that participated in this magical day.
Angela's House Receives Generous Gift
As last year came to a close Angela's House looked at the many items that insurance or Medicaid would not cover for our children. This includes the children living at home with their parents in the community or at Angela's House.
It is a frustrating and tedious task to walk through the maze of insurance requests to end up no closer than when you started. Many of the families rightfully so get very frustrated that equipment or medical supplies that are needed for their children's care would not be covered. It is tragic that these children should go through such an endeavor. The case managers of Angela's House continue their efforts to find a way to get funding for these crucial services. The efforts continue with outreach into our community to reach out for support of fundraised dollars to purchase some of these essential supplies. Many times the parents are left with the financial burden of purchasing the needed equipment.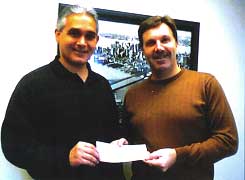 It was an exciting day to see a special company step forward to help with the most expensive item on our wish list. Gregory Cuneo, Chairman of HRH Construction Corporation handed Bob Policastro a generous check of $12,000 to pay for new specialized beds needed for Angela's House. Bob is shown receiving the check and thanking Mr. Cuneo for this generous donation. It is so fantastic when people in our community reach out to help our children. Donations like this allow us to care for our children in the special way that they deserve. Thank you Mr. Cuneo and HRH Construction Corp.
Support Us
The greatest gift we can give is one that helps others. Your donations will allow us to help defer the financial burden our families experience with the day to day needs each child has. We can help families purchase medical supplies, special food supplements, medical care, therapeutic equipment and more. Thank you for taking our children in to your heart.
Students From NYIT Create a Masterpiece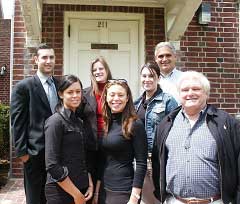 Front Row: Allison Clarke, Bianca Rodriguez, Len Leimgruber
Back Row: Brian Gartenlaub, Danette Adamovich, Crystal Healey, Bob Policastro
Students from the Advertising Program of New York Institute of Technology produced a breathtaking power point presentation that explains all the efforts of Angela's House. The group displayed a high level of professionalism, which helped them produce high quality work. Bob Policastro shared his praise and appreciation to Len Leimgruber, the Director of the Advertising Department, and the Carlton Group.
Eastport Elementary Students Lend a Helping Hand to Angela's House
Newsday's Futurecorp captured Eastport Elementary students selling snacks to help raise funds during their Dance-A-Thon.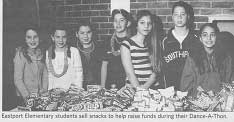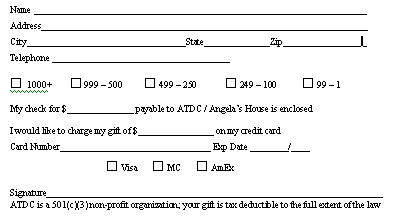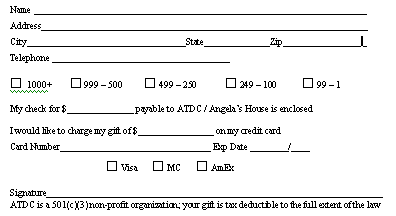 Spring Golf Outing
HRH Construction and Plaza Construction Corporation were the main sponsors of our First Annual Spring Golf Outing. The weather was perfect for a great day of golfing at Tamarack Country Club in Greenwich, Connecticut. The chair of the outing, Michelle Iovane of HRH, did an outstanding job making the day a success. We were fortunate to have several other sponsors including Gil-Bar Industries, Solar Electric Systems, Forest Electric and Jantile, Inc. Gregory Cuneo, Chairman of HRH, eloquently addressed the room, understanding the blessings of life and outstretched arms for those less fortunate. Bob Policastro presented a power point presentation that reached into the hearts of everyone in the room.
Save the Date

The second annual Angela's House Fall Golf Outing will be held on October 4th, 2004 at the Nissequogue Golf Club in St. James. This year's honoree is in memory of William J. Pace. Billy, along with the entire Pace family, has always been a great supporter of our cause and many other community efforts.
Information and sponsorships for the outing can be found at www.angelashouse.org or by calling 631-979-2620.
Angela's House II
The efforts to construct this well anticipated home is underway. The construction crews started the work on the foundation in May. This special home for eight medically frail children will be a great relief to the anxious families waiting for it to be completed.