Angela's House helps to coordinate the complex array of services needed to support families so that they may care for their medically frail children at home. Angela's House offers a home-away-from-home option for medically frail children when they cannot live at home. We understand the day-to-day, year-to-year support is very important for the well being of the children and their families.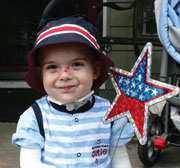 Casey
Casey is our 2 1/2 year old son. He has a personality that can light up a room. His smile can melt your heart and break it all at the same time. Casey was born with a genetic skin disease called dystrophic Epidermolysis Bullosa. He lacks theanchoring fibrils that hold his layers of skin together.
Any friction or trauma causes his skin to blister or shear off. He must wear clothes made from soft cotton and the seams must be covered or they rub and cause blisters. He can only eat soft foods and he has lost his fingernails and toenails. Our journey began by learning the art of bandaging and caring for a child with a disease we knew nothing about. We spend two hours a day wrapping his arms, hands, feet, legs and belly in gauze and special bandages commonly used on burn patients. We have to prevent infection on the wounds he has and protect him from the trauma of everyday activities.
Each wound he receives is equivalent to a second degree burn and each one leaves a scar. The continued wounding eventually leads to skin cancer in the teenage years. At any given time 40 percent of his body is wounded. We pop blisters every day on Casey and wrap the wounds they cause. Casey also blisters internally in his esophagus, upper airway and stomach.
Since birth he has been blistering his epiglottis and mouth. He vomits blood and coughs up pieces of skin from his epiglottis. In the summer of 2008, Casey went into respiratory arrest at home from the continual blistering of his upper airway. He was airlifted to Cincinnati Children's Hospital were tests showed he needed to undergo an emergency tracheotomy and place a feeding tube.
Post surgery he developed pneumonia, collapsed a lung, went into respiratory arrest and had allergic reactions to his antibiotics. It was the lowest point in our lives. We were very relieved to see him jumping in his crib six days later as if nothing had ever happened. After a month in the hospital, we returned home drained physically, emotionally and financially. It was at this point that we were introduced to Angela's House. From the moment we met them they jumped in to help with the expenses of the commute to Cincinnati Children's Hospital where Casey attends a specialized center for EB. Without them, we would not be financially able to make this commute every 8 weeks. The joy on my boys faces when they adopted our family for Christmas was priceless. They understand exactly what a family to a child with special needs requires and they never forgot how the rest of the family sacrifices. They are now part of our family and we are forever grateful for the work they do.
Despite all he goes through daily he is a happy and beautiful little boy. What you can't see from this story is his incredible personality and how everyone lights up when he enters a room. We derive the strength to care for him FROM him. He is the bravest and strongest soul we have ever met. Occasionally in life you meet someone who by circumstance has within them theability to influence society in a unique and positive way. Someone who possesses the ability to get this crazy world to slowdown for a moment and take notice of their cause. To us, this person is our son Casey.
Message from the Executive Director Bob Policastro

I cannot help but reflect that this past summer would have been my daughter Angela's 20th Birthday. Our efforts as parents and advocates are into its 20th year. My wife and I will never forget the heart wrenching feelings we experienced with our medically frail daughter.
We will also never forget how things became worse because there were few supports for her in the community. It was this experience that drives us to help other families. This was the foundation that our non profit was built on and continues to motivate us everyday. This is what pushed us to create the programs we have today that support both children and their families. Last year we helped 400 children with special health care needs that are medically fragile, chronically ill or living with a life threatening illness. Helping this many kids would not be possible without the support we get from the community.
It has been heart warming to see how our community has responded to helping the families we assist during these tough economic times. We continue to see our loyal and generous supporters reach out to be a part of our fund raising efforts. We have also seen new supporters reaching out to us. Going into last fall we were very nervous about our economy and the impact it would have on our outreach efforts but we feel blessed that people continue to think about Angela's House and the families and children we strive hard to assist.
This level of support becomes increasingly more important as we see more parents struggling to care for their children at home. We also see an increased need for more out of home placement options for child and young adults but these will not be available as there is no funding to make them possible. This pushes us to look for more creative ways to help parents as they care for their children at home. Your support is greatly appreciated as we strive to assist parents through these challenges.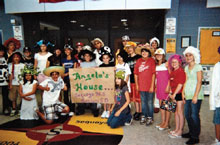 Sequoya Middle School students of Holbrook paid a dollar to wear a hat in school to raise money for Angela's House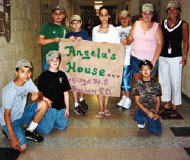 Sequoya Middle School students of Holbrook paid a dollar to wear a hat in school to raise money for Angela's House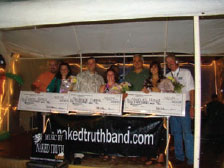 The Children's Foundation of Suffolk, Inc. presented a check to Angela's House at their annual Luau, they also visited Angela's House II in Smithtown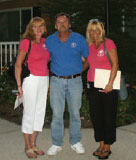 The Children's Foundation of Suffolk, Inc. presented a check to Angela's House at their annual Luau, they also visited Angela's House II in Smithtown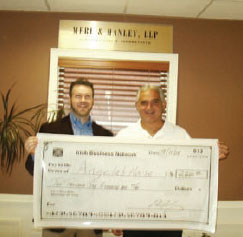 Michael Hanley from The Irish Business Network presents a check from a Fundraiser they held to support Angela's House.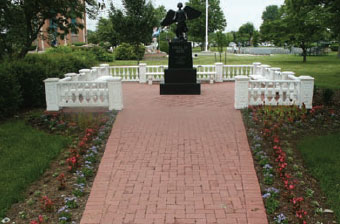 The Angel of Hope Statue honors all children that have passed away. The flowers look great along the walk way to the Angel of Hope. The 2009 Candlelight ceremony was Saturday December 5th at 4:30pm.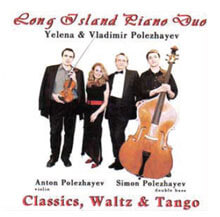 On October 11 The Polezhayev Family graciously held a concert to benefit Angela's House. From the left Anton, Yelena, Vladimir and Simon. The event co-chairs were Jane and David Hubbard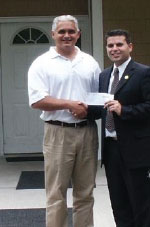 Smithtown Branch Funeral Home presents a check to Angela's House
Angela's House Golf Outing
The 2009 Angela's House Golf Outing was a great Success. Our Honoree Joseph McGovern was thanked for his generous support. Our guests enjoyed a great day of golf, food and a raffle table overflowing with great priczes.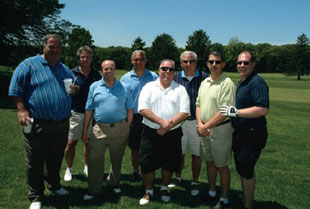 Nutech Health Care Management was a great support to Joseph McGovern and Angela's House.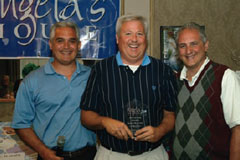 Honoree Joseph McGovern hold is award Praising his work to help Angela's House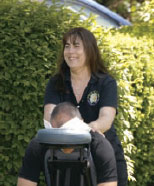 A Touch of Wellness Therapeutic Spa of Smithtown gives a massage to help our golfers.
Your Gifts Make a Difference
Angela's House uses public programs, grants and donations to assist families caring for their children with special health care needs that are medically fragile, chronically ill or living with a life threatening illness. Your donations and assistance with fund raising allows us to ease the financial burdens our families experience with the day-today care needed to support these children. These funds are very important especially for children first identified to us that need help right away but often must wait months to get assistance through public programs. We use these funds to purchase medical supplies, medical care, therapeutic equipment, and other items not covered by insurance. Below are a few of the families and children we have helped.
| | | |
| --- | --- | --- |
| Isabella | Hannah | Mackenzie |
| Zach | Ryan | Cadence |
| Ariyan | | Left Photo: Casey and Emily proudly present a check of $220 to Angela's House. Casey setup a lemonade stand three times during this past summer to raise money for medically frail Cadence children like her sister. |
---
Donations can be sent to:
Angela's House
PO Box 5052
Hauppauge, NY 11788
Angela's House is a 501(c)(3) non-profit organization; your gift is tax deductible to the full extent of the law.
Donations in Honor or in Memory of Kelly Ficken, Athena Fogarty, Kyle Gaunay, Stuart Goldblatt, Kyle Thomas Herring, Nicole Kowitt, Brandon LeMaire, Paulie Poloskey, Charles Romano, Joan Sodano, and Keira Sweeney
Donations In lieu of flowers:
In a time of grieving these families displayed great generosity by requesting donations be made to Angela's House in lieu of flowers. We were honored by this gesture.
Regina Abrams • Zach Cashin • Carmela Mincieli • Arturo Pace • Ryan Wheaton • Kathleen Woodburn
---
William J. Pace Memorial Golf Outing Benefiting Angela's House

The Pace Family knows hospitality and they do it well. They out did themselves this year. They added extra creative things to an already great outing to put it over the top. The dinner was the famous grilled steaks from Pace's Steak House and lobsters from Nissequogue Golf Club.
Fishing Charter Fundraiser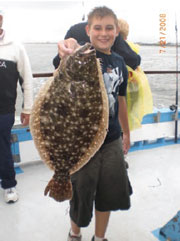 Our Fishing Fundraiser was on July 21. Thanks to Capt Chris for the charter boat Fishtail. Alex holds the prize fish of the day.