Angela's House helps to coordinate the complex array of services needed to support families so that they may care for their medically frail children at home. Angela's House offers a home away from home option for medically frail children to live in when they cannot live at home. We understand the day-to-day, year-to-year support is very important for the well-being of the children and their families.
We continue the long, drawn out preparation to develop Angela's House III. One can only imagine the plight a family endures as they wait for this home to be developed. We share with you a letter from Isabella's family.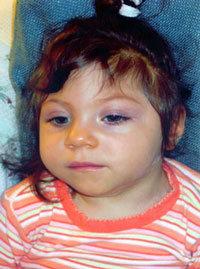 I am writing you about my two-year old daughter, Isabella, who is severely handicapped. She was born 11 weeks premature, subsequently suffered a lack of oxygen, and now has extensive brain damage. Her neurologist diagnosed her with having spastic, quadriplegic cerebral palsy. She cannot sit up, walk, talk, hold a toy, or even see. She also suffers with myoclonic seizures that seem to be getting worse. Although she experiences seizures all day long, they are most severe when she wakes up from sleeping. As a first time parent, this has been absolutely devastating to me and my husband. Everyday we struggle to help Isabella achieve milestones when doctors tell us she never will. We never know what each day will bring us, or her. Although she does have asthma, she has no major pulmonary or cardiac problems.
With the severity and fragility of Isabella's condition, my husband and I fear for her health and safety. This is where things get complicated. She has aspirated several times, and was hospitalized for aspiration pneumonia three times, as she easily contracts this condition. We have also had a few choking episodes at home, where she has turned blue and needed CPR to start breathing again, demonstrating her needs for care at a level greater than we can provide. She does receive various therapies through the Early Intervention program, but we are having difficulty finding everyday care for her. She cannot attend a "regular" day care facility, nor does she qualify for home care because she does not require a feeding tube at this point. We feel as if she is getting lost in the system.
This is why we started looking into a residential home for Isabella to live in. As difficult of a decision as this is to make as a parent, we have to do what is best for our daughter. Our biggest fear is that Isabella would be put in a facility where the staff would stick her in front of a window all day, and have little to no interaction with people. That is why we can see Isabella living in a home such as Angela's House. What I have seen and heard about Angela's House, I absolutely love. These children are so well cared for, it brings me great joy to know there is a place that Isabella may be able to go where she will be treated like the precious little girl that she is. I understand there is a waiting list for this one particular facility, and we will wait. However, I find it very sad that with all of the disabled children on Long Island, there are not more of these homes.
I truly admire the work you are doing to build these facilities, and placing these children in an environment where they will be loved and cared for as well as if they were in their own home. I know there will come a day when Isabella's needs become greater than what I can give her. I can only hope she will be fortunate enough to be a part of a special place, such as Angela's House.
Sincerely, Frank and Janice
Message from the Executive Director Bob Policastro
| | |
| --- | --- |
| | As I sit to write this note, I recall 18 years ago when my wife and I were in the hospital faced with the devastation of watching over our frail daughter Angela who was lying in front of us not knowing what to do, and a strong feeling of being alone. This is why when I see the people and organizations in this newsletter that have voluntarily stepped up to help us, it is just amazing. |
I want our parents of Angela's House to feel and see how the community around them cares. It is a dream come true to see the support in our community growing for families of children with special health care needs that are medically frail, chronically ill or living with a life threatening illness. We continue to help over 300 children and families each year. Things have come a long way since I first started advocating for my daughter. I am grateful to see how things have improved but I realize that the current programs and supports still fall short as we try to help each family. It is as frustrating for us as it is for the families because there is nothing we want more than a family that can find some peace in their difficult situation.

I am hopeful that when you read the plight of Isabella's family on the first page that you may understand what this family is feeling. It is frustrating for us to see the slow progress in the development of Angela's House III.

The Angel of Hope statue to memorialize all children that have passed away on Long Island continues to be stalled. We originally hoped to put it on Suffolk County property but were turned down leaving us with currently no good alternatives.
If you have any suggestions or a Child you feel deserves to be part of this memorial please contact us.
As the year comes to an end I reflect on our 15th year Anniversary and my appreciation for all the support that has been extended to our children and their families. I also praise the great staff of Angela's House that give of their heart and soul each day for our special children and their families.
"Wishing you a Happy and Healthy New Year."
---
Thanks to Our Supporters
| | |
| --- | --- |
| | Jay D'Agostino and William Iaia did a bike ride from Florida to New York to fundraise and bring awareness to medically frail children. New York's Finest escorted them from the city to Long Island. |
---
| | |
| --- | --- |
| Cathal J. Scott Surf Casting Tournament and Dinner graciously offered the proceeds of their event to us. Kieran Scott (second from right) is Cathal's brother and chairperson of this event. Assemblyman Harvey Weisenberg, center, who was very instrumental in helping to create Angela's House. | |
---
MusiCare for Kids a group of six students did a fundraiser to benefit Angela's House.
---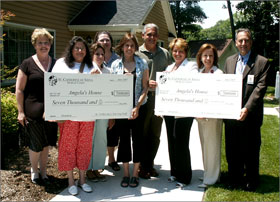 The nurses of St. Catherine's of Siena of Smithtown did a fund raiser for Angela's House during Nurses Week. The hospital's administration graciously matched the nurse's effort.
---
| | |
| --- | --- |
| | Smithtown Chamber of Commerce held its second annual Running of the Bull. We are proud to receive some of the proceeds from this event. |
---
| | |
| --- | --- |
| Doug Garvey and Michael Lo Russo from the Stonebridge Thursday Golf League held a fundraiser benefiting Angela's House. | |
Angela's House Golf Outing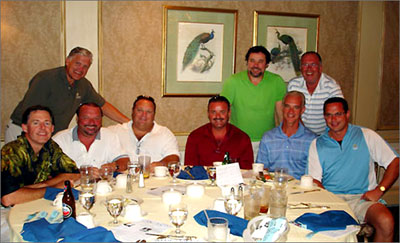 It was a great day of golf, food and laughs for our 5th annual Golf Outing at St George's Golf & Country Club. Thank you to our event sponsors Health Pro and Net App. Our other support sponsors included Charles Schwab, Penske and Frank Scozzari.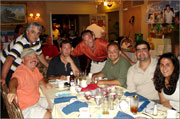 This day could not have been possible without the help of our golf committee ; Doug Demarco, Joe McGovern, Tony Morrone, Deniz Gurcan, Erin Gibbons, Sean Tracey and Ken Hayes.

Your Gifts Make a Difference
| | |
| --- | --- |
| | Angela's House uses public programs, grants and donations to assist families caring for their children with special health care needs that are medically fragile, chronically ill or living with a life threatening illness. |
Your donations and assistance with fund raising allows us to ease the financial burdens our families experience with the day-to-day care needed to support these children.
These funds are very important especially for children first identified to us that need help right away but often must wait months to get assistance through public programs. We use these funds to purchase medical supplies, medical care, therapeutic equipment, and other items not covered by insurance.
Donations In Honor or in Memory of
• Athena Fogarty • Kelly Anne Ficken • Michael D. Fregara
• Paulie Poloskey • Patrick Steimel • Nicole Kowitt
• Nicky Libretti • Emmanuel G. Filiberti • Brian Regan
Donations can be sent to:

Angela's House
P.O. Box 5052
Hauppauge, NY 11788

Angela's House is a 501(c)(3) non-profit organization; your gift is tax deductible to the full extent of the law

Eryn created a candy sale to raise money to help one of Angela's House's children.
| | | |
| --- | --- | --- |
| Angela's House helped to get a special chair for David. | Colleen celebrates her Confirmation Angela's House assisted the family with a van lift. | Angela's House helps Joseph with medical supplies not covered by insurance. |
Donations In lieu of flowers

In a time of grieving this family displayed great generosity by requesting donations to us in lieu of flowers. We were honored by this gesture.

– Brandon T. LeMarie
| | |
| --- | --- |
| Angela's House was able to help Jaiden and Lindsey get air conditioners to help them with their medical problems. | Bruce and his case manager on a tandem bicycle. |
William J. Pace Memorial Golf Outing
benefiting Angela's House
The Golf Outing was on a beautiful fall day at Nissequogue Golf Club in St. James. The guests had a great day of golf with plenty of food.
The evening was filled with special treats as Paces Steak House did a BBQ with their famous steaks and Nissequogue did the lobsters for an amazing dinner.
Fishing Charter Fundraiser
| | |
| --- | --- |
| | We had our first fishing fundraiser July 24 on the charter boat Fishtail sailing from Captree State Park. We had a perfect day everyone caught plenty of fish, enjoyed a nice dinner and relaxed to a beautiful sunset as we cruised back to the pier. |
---
Angela's House
P.O. Box 5052
Hauppauge, NY 11788

NonProfit Organization
US Postage Paid
Smithtown, NY 11787
Permit # 120
---

Information and sponsorships for these events can be found at www.angelashouse.org or by calling 631 979-2620