Kiley's Story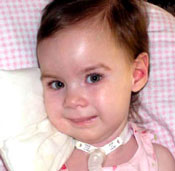 I can't quite remember what the weather was like the day I met Bob Policastro from Angela's House. Everyday had been gloomy and gray until that point. My wife and I had a lot of questions ahead of us, but few answers.
You see, my wife and I had been living behind a curtain, next to my daughter Kiley's crib in the pediatric intensive care unit "PICU" of Schneider's Children's Hospital for that last week and a half. The day after Christmas 2005 we found ourselves in the Emergency Room, Kiley was sick and was having trouble breathing. We were quickly moved up to the PICU where we sat and waited for answers. We knew Kiley had Spinal Muscular Atrophy, she had been diagnosed back in July at the age of 3 months. SMA affects the involuntary muscles of the body. It becomes more and more difficult to breathe and swallow as the children get older. The doctors told us to expect days like this. We tried to prepare ourselves for this, but you can't really prepare yourself for living with your child in the PICU of a hospital.
When Bob came in and introduced himself I think I was half asleep, which is how I spent most of my time there. My wife and I took turns sleeping in a chair. The other, holding Kiley's hand. Bob had such a calming sense about him. He told me about himself and how he could remember being in my very situation a few years earlier. After our conversation Bob assured me that he would help us with anything we needed. At the time I didn't realize just how much Bob and Angela's House would help us.
A few months after getting out of the hospital, my wife and I found ourselves in between insurance companies. I had started a new job that offered different health insurance. In the process of switching over insurances, the medical supply companies stopped sending us the supplies we needed for Kiley's care. The paper work for the insurance companies was all over the place and no one wanted to give out supplies without payment. It was almost $3000 a month for Kiley's supplies. My wife and I could not afford that. What were we going to do?
I called Bob and told him what was going on. He could hear the panic in my voice, and once again with his calming tone he said "I will take care of this, you have enough to care for at home". I knew Bob would take care of it. A few days later the supplies arrived at our door. Bob had made a few phone calls, and was able to pay for Kiley's needed medical supplies through Angela's House.
And again a few weeks ago, Bob called to see how things were going. We explained how Kiley had gotten too tall for a regular stroller and was in need of a medical stroller. The insurance companies denied payment for this stroller. A few weeks later Kiley was back on the go. Bob and Angela's House had again helped us. It allowed us to take Kiley outside again where she could truly experience life.
Having a child with the medical issues we face each day is difficult enough without arguing with insurance companies over what you need and what they "think" you need. Having a person like Bob, and the fine people over at certainly makes it easier. I don't know where we would be without their help. It's nice to know that someone is willing to go to bat for us when we really need it. Thank You to Bob and his staff and all the generous people who support Angela's House.
Message from the Executive Director
One of the hardest things I do every day is to spread the word of the children in our community that are medically frail, chronically ill or living with a life threatening illness. It is an effort that never rests because we know each week we have a new family calling us. It is a great day when we have the opportunity to link a family to resources that can help their children. It can be a very difficult and long process to both find and get a family into a program that can help them. We have a program that can offer relief to parents as they wait to be linked to services. We have been fortuante to extend additional help made possible through donations and grants where we can assist families to purchase things that cannot be funded by other means. This may include items such as medical supplies, respite care and durable medical equipment.
We continue to work on plans to build a new Angela's House. Our goal is to be able to handle some children that are ventilator dependent and to help bring back kids living far away from their families. Some of these children are living out of state and we want to bring them back to Long Island closer to their families in our new special home.
Our mission and goal to help new families and to build a new home is made possible by the generous support we are getting. I am very grateful the community is embracing these families and their children.

We did have a recent setback. We will need to find a new home for the Angel of Hope Statue. In a surprising decision, the Suffolk County Legislature formed a committee that turned down our request to erect this statue on Suffolk County property. The Angel comes from a best selling novel by Richard Paul Evans.
The statue evokes a profound and miraculous connection between mother and child and helps convey valuable lessons about the true meaning of life to others. This simple story and statue has brought hope to thousands of parents who have endured the death of a child. There have been 60 Angel of Hope statues erected in cities across the US.
Our effort to find a home for this Angel will continue. This statue will be in honor of all parents that have lost a child.
See more information: www.angelashouse.org/angelofhope.shtml
| | |
| --- | --- |
| Gregory Cuneo, Chairman of HRH Construction graciously held their 3rd annual golf outing on July 25th at the Trump National Golf Club in Westchester. Angela's House was one of the recipients of this event. | |
Thanks to Our Supporters
| | |
| --- | --- |
| Boy Scout Brian Abramowitz from Troop 214 works with Girl Scout Troop 3720 to plant Flowers for their Eagle and Silver Award Projects. | |
Children's Charity Bike Ride


Jay D'Agostino and William Iaia embarked on a 900 mile bike ride from Chicago to Long Island to raise money and awareness for Angela's House.
| | |
| --- | --- |
| Michael LoRusso and Doug Garvey held a golf outing benefiting Angela's House | |
| | |
| --- | --- |
| | Nurses from St. Catherine of Siena Hospital initiated a fund raiser for Angela's House during Nurse's Week. |

The Association of Legal Administrators held their Community
Challenge Event honoring Angela's House
Angela's House 4th Annual Golf Outing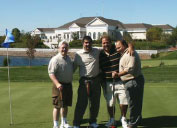 We had a perfect day for our Golf Outing. The Hamlet at Willow Creek Golf and Country Club did a wonderful job making a great day for everyone. Many thanks to our Sponsors: Penske, Aprosite, Commerce bank, Noble Elevator and Charles Schwab. After a great afternoon of golf everyone relaxed with a beautiful cocktail party. The dinner topped off the evening with great food and a fun raffle. The outing would not be possible without the planning committee and the yearlong effort by Tony Morrone, Doug DeMarco, Jerry Focone, Deniz Gurcan, Tom Whalen, Joe McGovern, Sean Tracey and Chris Kutner. First place for low net was Gary Cioni.
Your Gifts Make a Difference
The greatest gift we can give is one that can help a child in need. Your donations allow us to ease the financial burdens our families experience with the day-to-day needs of each child. We use these funds to purchase medical supplies, special food supplements, medical care, therapeutic equipment, and more. 100% of your donation goes to our children.
Donations can be sent to:
Angela's House
PO Box 5052
Hauppauge, NY 11788
Angela's House is a 501(c)(3) non-profit organization; your gift is tax deductible to the full extent of the law.
| | | |
| --- | --- | --- |
| Angela's House helped Kiley with a new stroller that can support her portable ventilator | Angela's House helped Kevin get a stander and stroller | Angela's House helped to modify Joseph's bathroom to make it accessible |
In Memory Of:

In a time of grieving these families have displayed great generosity by requesting donations to us in lieu of flowers. We are honored by this gesture shown by the families of the following:
Nicholas Libretti
Paulie Poloskey

Ode to Kelly, My Special Little Angel
Kelly's Grandmother wrote a poem that was inspired by Kelly's brother, Matthew, who told us not to cry, Kelly was dancing in heaven.
High on a mountain top
Watching clouds sail by
I see your face
Just let me hold you one more time!
You smile at me, and beckon me to follow
I watch in awe as you unfold and dance
Oh, it's so good to see you're finally free!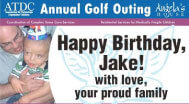 Great new tee signs for our golf outing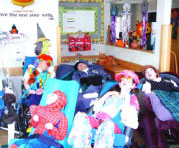 Halloween Party at Angela's House East Moriches
| | |
| --- | --- |
| | Angela's House helped Bruce be a part of an equestrian competition In which he was a proud medal winner |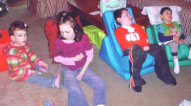 Julia, Allison, Jacob & Vincent get together f or a play date
Smithtown Chamber of Commerce 5K Running of the Bull
Angela's House's very own had fun running in this event.


William J Pace Memorial Golf Outing
The William J Pace Golf Outing at Nissequogue Golf Club was a great success. It was a perfect fall day with golf and a wonderful dinner that included the famous steaks from Pace's Steak House. The day was very special with friends and family coming together for a good time benefiting Angela's House.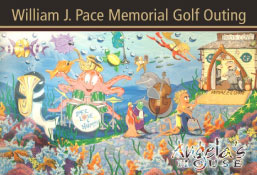 Spring Gala
Save the Date
March 22, 2007
Watermill Inn