NYS Assemblyman Harvey Weisenberg Breaks the Trend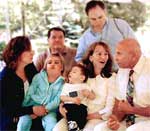 While most politicians were doing campaign fund raising this past fall, this Assemblyman hosted a Special Brunch for Special Children. Angela's House was one of the proud recipients of this fund raising effort, which raised $55,000 for Angela's House II. This event was so beautiful it touched everyone's heart in a profound way. The program ended with a young, autistic, visually impaired girl, Brittany Maier, who professionally played classical music on the piano.
Fall Golf Outing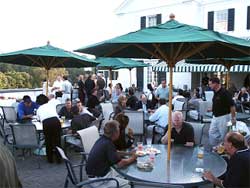 This year's outing at the Nissequogue Golf Club was a huge success. We were fortunate to have a perfect, sunny, fall day. The course was fantastic as people had a great day.
This event was even more special because it was dedicated in memory of William J. Pace. William and his family have been a great support to Angela's House. They understand the challenges our families face, as they care for their own medically fragile child, Dominic. William's wife, Terry, left no eyes dry as she spoke at the dinner.
This day would not have been possible without the sponsor support from Bank of America, The Cohen Family, Long Island Home Inspection, Woodhaven Nursing Home, Anjani K. Sinha MD, Noble Elevator and All State Abstract Corp.

It was said many times during the evening that this wasn't the ordinary outing and dinner. There was a special feeling of camaraderie and understanding of what our efforts are to help families of medically frail children.
SAVE THE DATE:
Next year's golf outing will be on October 3, 2005
The Torch Foundation
Joe Rutigliano of The Torch Foundation presented a grant of $15,000 to Angela's House. This grant will be used to offset the construction costs and specialty equipment the children will need for Angela's House II.
Message from the Executive Director
It was fifteen years this past summer that our daughter, Angela, was born. Our heartfelt efforts to help her turned to helping others as we learned about the many medically frail children in our community.
We have seen some progress over the years but we still have a long way to go. I look forward to the exciting progress of next year. We will see Angela's House II open soon. We look forward to helping new children and families that are referred to us.
We will be very busy setting up a resource fair with the LI Network of Children with Special Healthcare Needs so that both families and professionals will have a chance to see the services available to help medically frail children under one roof. We look forward to having another successful year with our fund raising activities.
We still have a lot of work ahead of us. We need to connect with families sooner so that we can get them the help they deserve. We will continue to move forward with a respite (relief) house despite the setback of losing the opportunity to build this home on the church property that was offered to us four years ago. We also need to work on developing a home for children who are dependent on a ventilator. This is tragically a reality as we learned about Max Amar, who is living in a hospital 1-½ hours from his family. (see story pg 4)
As the year comes to an end, I extend to you, wishes of a Healthy New Year. I also ask that you keep our families of children that passed away this year in your thoughts and prayers.
A Day in a Life: One Family's Story
On Long Island, there is a war being fought 24 hours a day, 7 days a week and there is no cease-fire. Karen and Michael are fighting against all odds to give their daughter, Grace Catherine, the best life possible and prevent their most feared enemy, infection, from claiming the life of their daughter. Every day since Grace was born in March 2002, they fight this battle along with doctors, nurses, therapists, wound care specialists, family, friends and, most of all, their love. Grace, better known as Tinkerbell or Princess, was born with a devastating, life threatening, rare genetic skin disorder called Epidermoslysis Bullosa. Of the many subtypes, Grace was diagnosed with the most severe, Recessive Dystrophic. These test results took one year since there is only one lab in the world that tests for this condition.
This condition has no cure. Friction, heat, stress, and/or traumas produce blisters leading to scarring. Due to the delicate nature of their skin, these children are called "Butterfly Children". The blisters occur anywhere and everywhere on the body including the GI tract and eyes. Excruciatingly painful and itchy, Grace requires daily medications, however, these never take the symptoms away completely. Her mouth and tongue are also affected so her speech and eating are becoming increasingly difficult. It is a never ending battle to maintain the calories and protein needed and also prevent the blisters from spreading.
Each day in the war brings a new battle. Until the war is won, Grace and her parents are fighting against insurmountable odds. As she gets older, her needs increase. They ask for your help. Help to meet her needs and to overcome the ignorance. If and when you see Grace and her parents, please ask them about EB. Go on-line to the website of DEBRA.COM and other links and learn more. Enjoy and be thankful for each day and treasure the moments with your children.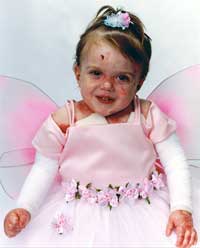 Angela's House Finds Support in the Community for David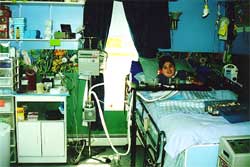 David is a precious young boy with a smile that will make you melt. David is supported with a complex life support system. In David's short life he has had over 100 surgeries and has spent over 500 days in the hospital. The family had no choice but to have him live in the family's dining room. Efforts of outreach into the community were successful in getting the necessary funding and supplies to convert the family's garage into a handicapped accessible bedroom and bathroom.
Bob Policastro, Executive Director, was ecstatic over the success of this effort. He said, "David deserved this room and it was a dream to see." He wishes other families would have this same luck and support by their community, but it doesn't happen often enough.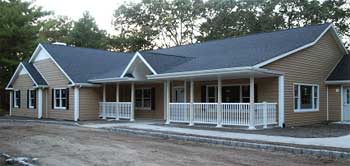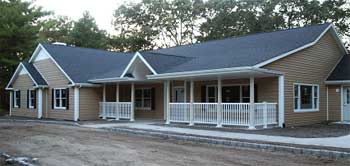 Construction on this special home for 8 medically frail children is progressing at a rapid pace. Most of the outside construction is completed, with the inside to be completed by December.
The families are very excited, anticipating the opening of the home, which is expected in the first part of 2005.
Appeal
The holiday season is a special time of year when we feel the joy and happiness and good health we have. We would like to bring this joy and happiness to the special children and families we work with. In order to do this we have adopted an Annual Giving Campaign so that we can successfully reach out to help the ever growing needs of families with medically frail children in our community.
The greatest gift we can give is one that helps others. Your donations will allow us to help defer the financial burden our families experience with the day-to-day needs each child has. We can help families purchase medical supplies, special food supplements, medical care, therapeutic equipment and more. Thank you for taking our children in to your heart.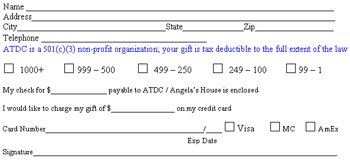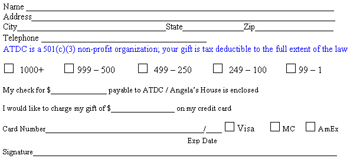 A Smile for Angela's House

Jane Hubbard wanted to help the children we work with so she let her creativity move her forward. She worked with Vladimir Polezchayev to create "A Smile for Angela's House" which is a CD full of children's music. We have received $455 from the donations brought in by this project.
A Mom's Drive to Care for Son Closer to Home
I am writing to you because I need help. My son Max just turned 2 in July. He was born with brain stem atrophy, which left him dependent on a ventilator.
From birth to eight months he stayed in North Shore University Hospital on Long Island, 30 minutes from my home. I had then attempted to bring him home, but was not successful. After five hours he stopped breathing, and the nurse did not know how to resuscitate him. He then was in a coma for three weeks. Thank God for miracles, he came back to his baseline. He was then sent to Blythedale Children's Hospital in Westchester, which is 1½ hours away, for rehabilitation. I go every day to see him. They had expected him to stay for 3-6 months, and it is now almost 2 years. Unfortunately it is not a long-term care facility and he needs a place to live. There are no facilities available in our local area that can care for ventilator dependent children. The closest facilities are in New Jersey, which are very far.
I don't understand why there aren't more places for ventilator dependent children. Technology and research has become so advanced that they are able to save all types of medically fragile children. However afterwards, there are no places for them to go.
Just like any normal mother, I want to be able to see my son everyday. I also have a nine year old son. I can't move him away from his father. My parents and my siblings live close by and are my back up support system. I am just trying to keep my family together. I don't want to leave my home.
Desperation has forced me to seek your help. Time is of the essence.
Thank you, Rachel Amar.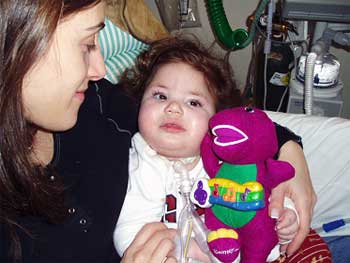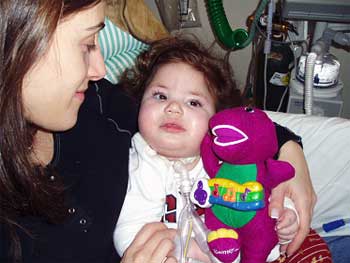 Angela's House
P.O. Box 5052
Hauppauge, NY 11788