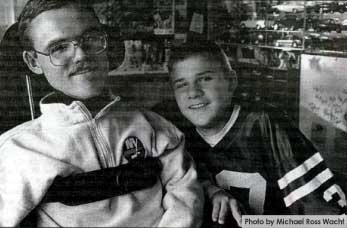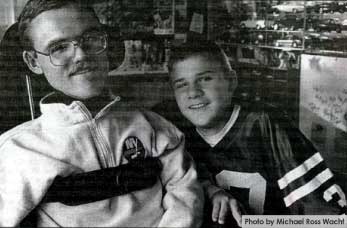 Newsday covered a heart-warming story regarding two of Angela's House's special children, Ryan and Michael Steubing. Ryan and Michael share a small bedroom in their Levittown home. Both boys have Duchennes Muscular Dystrophy, a slow but steady muscle-debilitating disease requiring them to use wheelchairs. The problem was, their bedroom was 8 feet by 14 feet and was not big enough to accommodate both the boys and their wheelchairs. Angela's House realized that resources to help the boys were very limited. Their luck changed when Angela's House found a local contractor, Murphy Construction who offered to rebuild the room for free, making it 16 feet by 14 feet. Thanks to the extremely generous offer of Bill and Charles Murphy of Murphy Construction, the boys now have a spacious bedroom they are both very happy with.
Website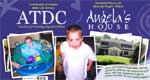 Angela's House was grateful for the donated efforts that helped to create and run our website. AProsite of Hauppauge, www.aprosite.com, generously made this all possible. They were eager to learn all the aspects of our agency so that they could create a site for us. They have tremendous experience with over 500 sites that they have established. We had Words & Images of East Moriches do graphic artwork to help develop our home page. We are very excited to have the website and we feel it will be a great tool to help with our mission to help medically frail children in our community.
THANK YOU AProsite
Respite House
We continue with our efforts to develop a respite house that will offer nursing care for medically frail children. This house will be the first of its kind to offer temporary relief to the hundreds of families caring for their frail child at home. The day to day efforts of parents caring for their frail and sick children at home can be overwhelming. This respite house will offer a well-deserved break for a day, weekend or week. Angela's House has been working with the Catholic Church Diocese for several years and hope the negotiations for the property to develop this house will be completed soon. We have invested over 10 years on this house. We realize this program

is very important and we will continue our efforts to build this home.
Message from the Executive Director
We had a very successful year. The excitement started with the generous donation from UPS for $100,000 that will be used to fund the necessary medical equipment needed for our proposed respite home for medically frail children. We are proud that they selected our special project.
After working directly with IGHL for many years with Angela's House, the first residence for medically frail children, Angela's House joined efforts in an affiliation with IGHL. This affiliation will do great things to help medically frail children into the future. The first of such efforts was the groundbreaking of Angela's House II in Smithtown. There are other projects in the works including a respite home for medically frail children.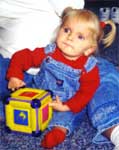 Angela's House was instrumental in working with the LI Network of Families of Children with Special Health Care Needs to have a resource fair. This event gave families the opportunity to see many different resources under one roof.
Angela's House was blessed with having AProsite of Hauppauge work with us to develop an outstanding website, www.angelashouse.org. We recently had our first golf outing that was a huge success. It was wonderful to see the support we received from our community to make this a successful outing.
Our programs continue to grow as we helped over 200 families this past year. We take great pride in having a parent friendly and caring environment to reach out and help each family. As each family is identified a coordinated effort is made to establish a plan to help the child and family. We have learned that it can take over a year before families can get into state funded programs to help support their child at home. We have used grant money and donations to help meet the needs of these families as they wait to get into these programs. I thank everyone for their continued support and wish you all a healthy new year.

Angela's House lost a special friend and long time supporter this past year, Erik Skaalerud. Erik went out of his way to do fund raising efforts and legal work for us. He will be deeply missed.
IGHL Affiliation
Angela's House and Independent Group Home Living, IGHL, forge a relationship going back over ten years.
The parent driven plans of Angela's House pressed for a small home-like environment to care for children unlike our neighboring states that setup larger institutions. Angela's House needed to prove that a small home like model would fiscally work. Angela's House needed the expertise of an agency that operated group homes and intermediate care facilities. That is when Walter Stockton, CEO of IGHL, realized the importance of New York State creating residential alternatives for medically frail children. Walter recognized the success of operating small homes for developmentally disabled individuals. Walter assisted Bob Policastro so that he could create a financial analysis to show that it would be cost effective to create a group home model with 24 hour nursing that could care for medically frail children. This was very important because there were no plans in NYS to address this need. This analysis proved that this home would be financially responsible and the right environment for children. The relationship of Angela's House and IGHL continued through the successful completion of Angela's House. Angela's House and IGHL celebrated 2003 as they came together to create an affiliation.
The affiliation will draw on the success of both agencies to help more families and children into the future.
The Torch Foundation Lends a Helping Hand
Newsday covered a story about one of our precious little girls that has tumors behind her eye, cheek and palate. The tumors created a situation where her breathing is labored when she lies down. She needed a bed that allows her to sleep at a 45-degree angle. The problem was that her insurance company would not cover the bed. Angela's House did an outreach in an attempt to secure funding for the bed. These efforts proved successful when Joe and Jayne Rutigliano presented a check from The Torch Foundation of Long Island to purchase a specialized bed for this precious little girl. Thank you Torch Foundation. Many thanks to the medical supply company that was able to help us get the bed. Thank you, NuTech Health Care Management.
Astoria Federal Donation
David Carballeira, manager of Astoria Federal Savings, presented Bob Policastro with a check for $2500. The funds will be used to purchase equipment for the respite home.
1st Annual Golf Outing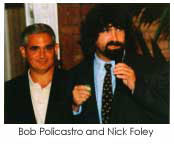 Bob Policastro, Director of hosted the association's first annual golf outing on September 29th at the Nissequogue Golf Club in St. James. The event, a fundraiser for Angela's House, netted $32,700 through corporate sponsors, golf participants, raffles and auction. It was a beautiful, clear, crisp autumn day on the golf course.
Major sponsors included Fleet Bank, Vytra Health Plans, Carpenters Local Union 7, Professional Equipment/Aprosite.com, the Norton family and the Cohen family. The Golf Committee members were Bob Policastro, Walter Stockton, Frank Lombardi, Deniz Gurcan, Gerard Focone, Anthony Marrone, Sean Tracey, Joe McGovern and Tom Brennan. Angela's House appreciates their generous support and expertise in creating this successful event.
The committee organized an exciting evening with Mick Foley as emcee. Mick, aka Mankind, is a three time World Wide Federation Wrestling Champ and NY Times best selling author, who created a lot of fun for the guests as they made bids for golf outings to Bethpage Black Course, Southampton Golf Club, and Atlantic Golf Course. Louis Rocco, of Landauer Metropolitan, made the highest bid of $1300 for a threesome with Walter Stockton at Southampton Golf Club. In the raffles, lucky Joe Dovi won a set of graphite golf clubs and a television and John Caraciolo won the 53″ screen TV. Based on the happy noise of the evening and the standing ovation for Bob Policastro, everyone felt the same way.
Angela's House II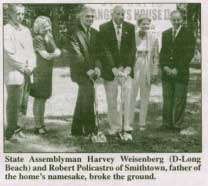 The seven children have been selected for Angela's House II in Smithtown. We are very excited that our plans for this new home have been very well received by the community.
This specialized home with 24-hour nursing will help to fill a gap in our system to help medically frail children. We had an eventful groundbreaking ceremony in June. There were many people in our community that joined us for this special day along with Assemblyman Harvey Weisenberg, who was successful in helping us to get the funding for this home. Also present were several of the beautiful children that will live in the home once it opens.
We have run into several delays that will push back the completion of this home at least into the spring.
We are very anxious to move forward with this home because each day is an added struggle to the families waiting for it to open.