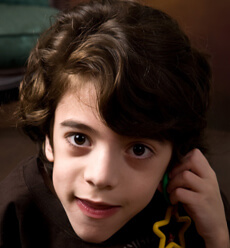 Oliver is an adorable 8 year old little boy. Oliver had a stroke in utero & as a result, he suffered a brain stem injury. He is totally blind. He has autonomic dysfunction, so he has a lot of trouble regulating his heart rate, blood pressure & breathing. His intestines do not work properly, so he needs special formula & can't eat any food. The brain injury also hurt his pituitary gland, so he does not make the necessary life sustaining hormones & they need to be replaced daily with injections & pills. Whenever he gets sick or has any physical stress, he becomes unstable & needs to be hospitalized to prevent life threatening crisis. He has seizures that do not respond to medication so he still experiences seizures daily. He gets multiple respiratory treatments daily & suctioning. He takes at least 13 medications each day. Oliver requires skilled nursing care and he is fully dependent for all his care.
All that being said, Oliver is one of the happiest little guys you´ll ever meet. He always has a smile on his face & he never complains even though he has had to endure so much. Even when he is bombarded with seizures & he gets cranky, he will still smile. He is sweet & affectionate & he has quite a sense of humor & the most infectious laugh! He has had such limitations placed on him, yet he never stops trying to achieve, & because of his determination, he often accomplishes things nobody ever thought he could! He is extraordinarily tolerant & teaches us all a thing or two about what is really important in life! Oliver´s family feels he is truly a blessing & they are honored to have him.
Oliver´s family has tried everything so he can achieve the best quality of life and health. It is not an easy task. The health insurance premium is $3000/month. Oliver requires nursing care that is, for now covered by this insurance. There are many expenses not covered such as the cost to operate his medical equipment such as his heart /oxygen monitor which is on 24/7. There are other expenses not covered such as the home adaptations that are needed to accommodate Oliver´s growth or a therapeutic safe play area. These things are costly and beyond what the family can afford. Oliver has outgrown his wheelchair within a 5 year timeline which means his insurance will not cover the costs to buy a new one. They will add extensions to the existing chair, but it becomes less functional as Oliver grows. He needs a chair that reclines all the way back for when he fatigues and it will allow the family to change him without having to lay him down on public floors. It is all so expensive & often puts the family into a situation where they must choose which bills to pay each month. The family wants to provide the best possible quality of life in a healthy, nurturing home filled with love. Nothing pains his parents more than to fall short of his care needs due to a lack of money.