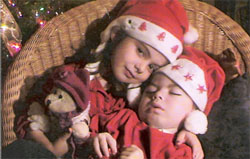 Joseph (pictured here with his 4½ yr. old sister Kayla) is a beautiful, 3 ½ yr. old blue eyed boy, who has a variety of serious conditions. He was born with frontal lobe atrophy and epileptic encephalopathy which includes limitless seizure activity. He has been in the hospital almost every 6 weeks due to various situations or illness. At 2 yrs. old, he experienced spinal meningitis and underwent 3 surgeries to remove fluid from his brain. Joseph has a G-tube, suffers from GERD (Gastroesophageal reflux) and has recently undergone a Nissen fundoplication because of a weak valve muscle between the stomach and the esophagus. Joseph also has a trach which was inserted in August. Since the tracheostomy, life has been increasingly harrowing for Joseph and his family. He is now on humidified oxygen day and night. He recently experienced two hospitalization one due to pneumonia due to aspiration and another one was necessary to replace the trach. The family continues to have difficulty finding home care nursing to assist in the care of their son.
Joseph's dad works seven days a week and his mom stays at home with Joseph and Kayla. Joseph requires 24 hr. care and because of the shortage of nurses, Kayla spends her days watching Mom monitor Joseph's levels, suctioning him, giving Joseph medication and feeding him via pump. Kayla also assists Mom in carrying some of Joseph's supplies up and down the stairs of their split level home, which makes management of Joseph's needs even more difficult. Mom does try to get Kayla to her nursery school program 3 days a week however, if a nurse does not show up, Mom must take Joseph with her which means unhooking him from his O2 and humidification and putting him on a portable system, which has a very short timeline and is cumbersome. Mom and Dad spend little time together.
Joseph does have Medicaid but this does not cover all of his medical supplies or expenses.