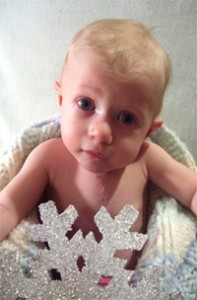 Cassidy is a beautiful 14 month old girl who was born with DiGeorge Syndrome; a chromosomal deletion that caused her to have a serious heart condition called Tetralogy of Fallot with Pulmonary Atresia, a VSD and Collateral Vessels.
Cassidy had 4 Open Heart Surgeries and 7 Heart Catherizations. She had a NEC scare after her first surgery and spent a month in the hospital, including her first Christmas & New Year's. There have been 10 trips to Children's Hospital Boston, which is the closest hospital able to treat Cassidy's complex condition and she has spent over 90 days as a patient.
Cassidy is a work in progress and will require multiple Catherizations in the future as well as a minimum of one more Open Heart Surgery to replace a donated piece of Pulmonary Artery. It has been a trying 14 months for the family. They have insurance but this does not cover all of the travel expenses, prescription costs, and co-payments that comprise Cassidy's medical care.