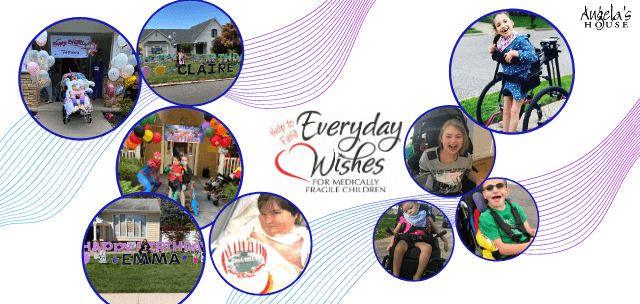 Event Description:
Friends,
We hope you staying cool and healthy. Due to the continued capacity restrictions and in order to ensure everyone's safety, we were forced to cancel our annual Fishing Fundraiser scheduled for July 29th. We held off on sending this email in hopes that we could write with better news, however, it is crucial that we observe the precautions put in place, especially given the medically fragile children we work with. We so wanted to enjoy another year on the Great South Bay with you all, but there is always next year.
We are reaching out as we want to be able to continue to support our medically fragile children and their families however, that has been impacted by the cancellation of this fundraiser. This event, like our gala and golf outings, helps us raise much-needed funds to fulfill the Everyday Wishes of the children we work with. Without these funds, we may not be able to assist families with essentials like formula, diapers and medical supplies, equipment like wheelchairs, standards, and accessible strollers and other services and supports that cannot be covered by other means. 
Although we have reached Phase 4 of reopening, please remember that our families will be the last to leave their homes to ensure the safety of their medically fragile children. Some families have not left their homes since March in an effort to maintain a safe space. In order to help our families feel less isolated, we have taken to expanding our Everyday Wishes Program to include assisting families in paying for decorations for birthday and graduation parades, as well as cakes and other small gestures to show them that they are not alone. This has been so wonderful for not only them but for us, to be able to share in these important moments with them, even from 6 feet away.
All of us have in some way have felt an emotional impact of life during the COVID-19 pandemic. Those feelings are amplified for families caring for medically fragile children as all of the services and support they received to assist them have been put on pause indefinitely. They are doing the best they can, as we all are. We can make a difference together. Please think of our extraordinary families during these uncertain times and consider making a contribution to ensure that the medically fragile children we work with are able to continue to receive the best quality of care possible.
You can donate online by clicking any of the options below, you can also text to donate or checks can also be mailed to: 
Angela's House
PO Box 5052
Hauppauge, NY 11788
Please share with your family and friends:
Stay well & we hope to see you all soon,
Bob Policastro