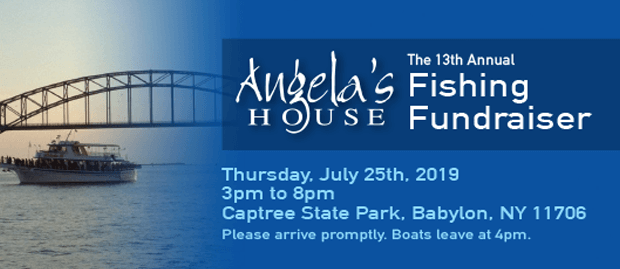 Event Description:
Enjoy 4 hours of fishing – includes: rod/reel, bait, hooks and sinkers
There is a prize for the biggest fish!
Kindly respond by July 22nd unless otherwise noted.
Fishing • Light Dinner • Refreshments • Sunset on the South Shore
Sponsorship opportunities available!!
Registration Form
Date:
07/25/2019
Time:
3:00 PM - 8:00 PM
Location:
Captree State Park
3500 Ocean Pkwy, Babylon, NY 11702
*Please note: New York State Parking fees are in effect, please bring cash
Registration/Sponsorship Options
Individual Ticket: $55
Includes:
Fishing
Light Dinner
Refreshments
Sponsor Sign: $100
Show your support of Angela's House by purchasing a sponsor sign that will be out at registration. All attendees will congregate in this area and this will allow great visibility for your company/brand!
If a logo, please email: jrotta@angelashouse.org
Heckle / Support Sign: $125
Get your friends together and send an (appropriate) message to a friend who is fishing for a good laugh!
Dinner Sponsor: $2000
Includes:
Signage displayed on all boats
Signage at registration [18″ x 24″ poster]
Social media recognition
Four (4) event tickets [total]
*for all charter boats
Boat Sponsor: $3000
Includes:
Large individualized banner displayed on a boat
Shared signage on the interior of all other boats
Signage at registration [18″x24″ poster]
Social media recognition
Eight (8) event tickets
*per charter boat
Event Sponsor: $7000
Includes:
Logo on the sleeve of t-shirt all attendees receive
Website, email & social media recognition
Signage displayed on all boats
Signage at registration [24″ x 36″ poster]
Sixteen (16) event tickets
*please respond by 7/3 to allow time for t-shirt production