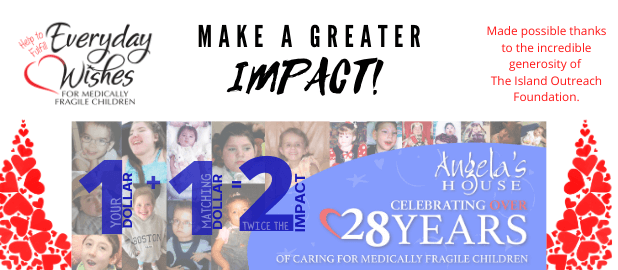 Event Description:
Friends,
It is with great honor & excitement that we are announcing that our request for a $150,000 matching grant was approved by the Island Outreach Foundation!
What does that mean?
From now until December 31st, any donation you make to Angela's House will be matched by the generosity of Island Outreach Foundation! So, if you donate $20, that becomes $40, $100 becomes $200, $1,000 becomes $2,000 and so forth until we reach a total of $150,000 raised!
Why this is critical?
2020, a number that is supposed to suggest clarity and sharpness of vision, has been everything but that. This year has caused uncertainty, confusion and the need to readjust and adapt for all of us on a personal and organizational level. The COVID-19 epidemic impacted our agency and the families we assist in many ways including program cuts to Angela's House, the Angela's House Home Store temporary closure (which serves as a year-round fundraiser for our programs) and excluding our recent Walk, the cancellation of Special Events and decimation of our fundraising efforts. To say this year has been challenging is an understatement, however, thanks to the Island Outreach Foundation, we have the ability to come close to closing some gaps and provide the same standard of care for our medically fragile children.
What does this support?
This matching grant will help us be able to fulfill the Everyday Wishes of the incredible heroes we work with. Please help us help our special children & families, many of whom still remain isolated in an effort to keep their children safe.
Donations go to support*:
$25 to purchase personal care items.
$50 to enable a child to attend a recreational activity.
$100 to purchase specialized formula.
$250 to offset the cost of prescription lenses.
$500 to purchase a special car seat.
$750 to purchase a portable ramp.
$1,000 to enable a child to attend a week of specialized camp.
$1,500 to offset the cost of an adaptive stroller.
$2,000 to offset the cost of therapeutic equipment.
*These are examples of Everyday Wishes (items that greatly improve fundraiser the quality of life for our children and are not funded by other means).
How can you help?
Make an individual donation and see if your employer will match your donation, which means triple the impact! (We have a database available for you to check, but if your employer is not listed here, you can still reach out to them and see if they participate in corporate giving.)
Ask your employer to contribute with a donation or sponsorship!
Create a Facebook fundraiser.
Donate to our Facebook fundraiser & share with your friends!
Text: AHEDW to 44-321
Mail a check Angela's House Re: 2020 Match PO Box 5052 Hauppauge, NY 11788
Donate when you check-out at the Angela's House Home Store! (Round your purchase up to the next whole dollar and/or add a monetary contribution.)
Get creative! — Have co-workers pay to participate in an ugly sweater dress down day, we want you to have fun!
We are open to hearing your ideas & sharing the ways that you want to help us achieve this goal together! Please reach out to Johanna at jrotta@angelashouse.org to discuss further.
THANK YOU IN ADVANCE, this means so much to us & our kids!
Please share with your family and friends!
Stall well & we hope to see you all soon,
Bob Policastro
Founder & Executive Director
The mission of Angela's House: To identify families caring for their children who may have a severe disability or medical condition so that we may help obtain supportive services to improve the quality of life for the children and their family.
All of us have in some way have felt an emotional impact of life during the COVID-19 pandemic. Those feelings are amplified for families caring for medically fragile children as all of the services and supports they received to assist them have been put on pause indefinitely. They are doing the best they can, as we all are. We can make a difference together. Please think of our extraordinary families during these uncertain times and consider making a contribution to ensure that the medically fragile children we work with are able to continue to receive the best quality of care possible.